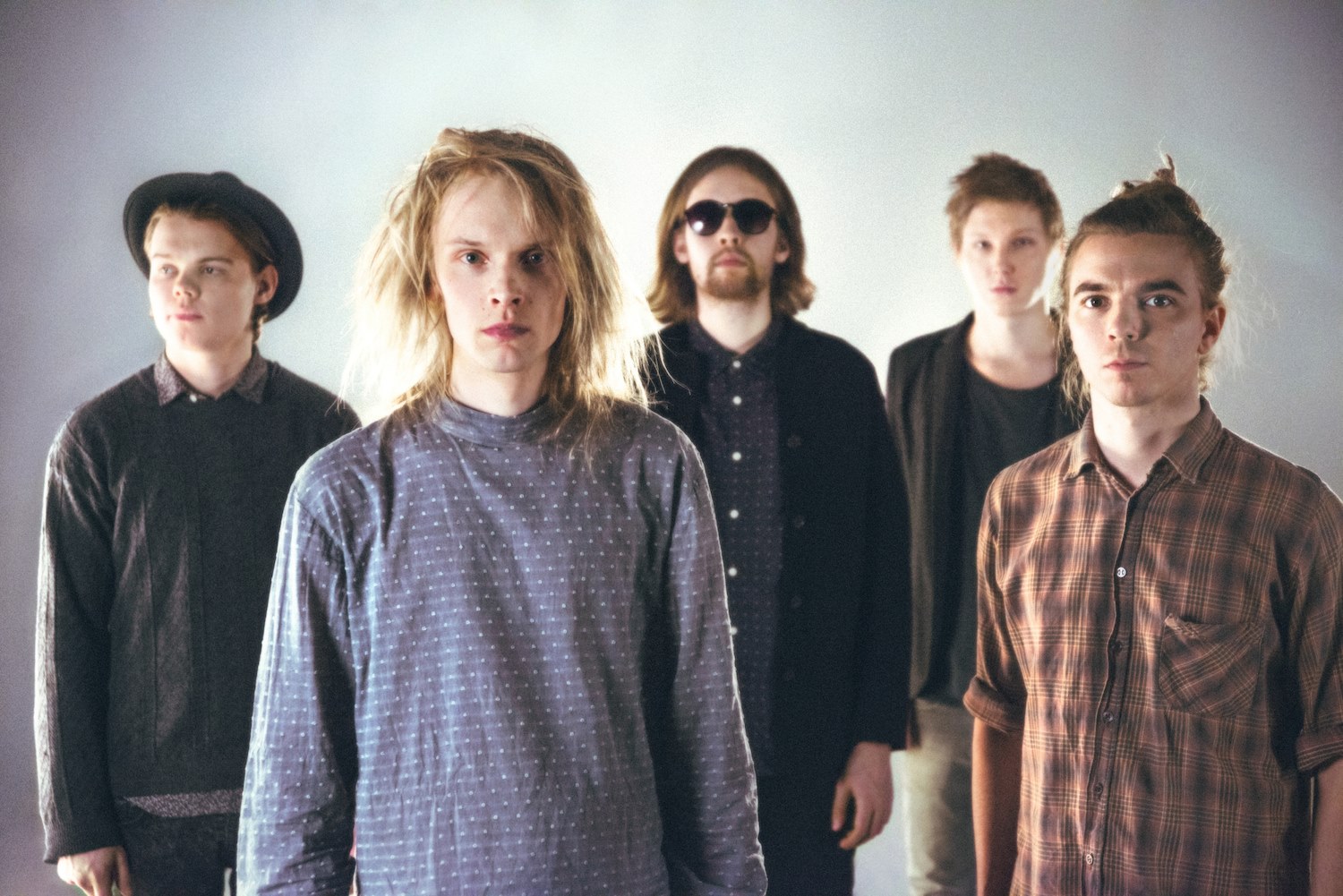 Finland's NEØV have been keeping extremely busy since releasing their last album Orange Morning to critical acclaim back in 2013.
Not only did they take this album out on the road, garnering a fantastic live reputation along the way, but they also managed to find time to record an entire new album entitled Dominique, an LP which is set for release in the not too distant future.
The first taste of NEØV's latest efforts arrived in the form of the outlandishly catchy single 'Laketown' at the start of the summer, featuring an unmistakable whistled melody which stole the show at their performances at the Great Escape Festival in Brighton earlier this year. It's a track which shows this collective adding heart and soul to shoegaze-leaning anthems, and offers up a tantalising taste of what Dominique has in store. The band have now unveiled a second single from the record entitled 'The Rain People', a song which Q highlighted as a 'Track Of The Day' and Amazing Radio instantly commended as their 'Record of the Week'.
NEØV are set to return to the UK next week, where they're be performing at Ja Ja Ja on Thursday 25th September alongside Danish super-duo Cancer and rising Norwegian singer Aurora Aksnes! We caught up with them ahead of their performance to find out a bit more about who they are, their home town of Kuopio and the first song they ever wrote, so scroll down to read their exclusive Spotlight interview right here, and check out the brand new video for latest single 'The Rain People' via this link!
Spotlight Interview: NEØV
For those that haven't met you yet, could you please introduce yourself – who are you, where are you from, and how would you describe what you do?

We're NEØV, a five-piece from Eastern Finland. I (Anssi, the vocalist & songwriter) and Samuli (the drummer) are brothers, so we've grown up playing music together – at first in a small town of Juankoski and nowadays in a bit bigger one, Kuopio, where we met Jonas, Ari and Antti – so that's where our HQ is located.
We make music that moves us, that's the only way. We're into ambient stuff, Satie, Morricone and wall of guitars, for example, so we're paying a lot of attention on the texture, but that wouldn't be worth of it without a song and a story.
What made you first want to start making music, and can you remember the first song you ever wrote?!
What inspired me to start making music is that state, room or space – you name it – where music can take us. At the age of 19 I realised I'm not going to be happy if I don't spend a good part of my days making music.
The first song? Oh dear. Must have been some poor Oasis pastiche with acoustic guitar as a teenager, I collected their bootlegs back then. I don't remember the melody of that song because it wasn't good.
Who came up with the whistle melody for 'Laketown', and did you realise how catchy it would become? (we've been whistling it for months!)

I started whistling the melody one year ago and quite soon I had a feeling how that song should be done, but I don't remember much about the process or thinking about is it catchy or not, because the making of 'Laketown' went so easily and quickly. Maybe you can hear that?
Can you describe a typical day on the road with NEØV? Who's in charge of the van stereo, who is the bossy one and who goes to bed the latest?!

We try to organise everything well on the road, but on the next day there's always someone following the rest of the crew by train or something like that. Maybe we should hire a tour manager to be the bossy one and check who's in bed and who's not.
And about the van stereo: we have agreed collectively that music from the 60's works best when driving in Finland during the winter – it's the sound of the studded tires behind it.
You've had a pretty busy year so far by all accounts – what have been some of your highlights?
Releasing new singles 'Laketown' and 'The Rain People' and playing our first shows in the UK. Plus working on the material of our second album 'Dominique' with studio engineer Sampsa Väätäinen and video director Appu Jasu.
You guys come from Kuopio – can you tell us a bit about the music scene there? And if we come to visit, where should we go?!
This is a small town. This is not the centre of trendy music and I think that's a good thing for us. We're concentrating on our own thing and what we do is really us.
And actually, we are giving our contribution for the local music scene in Eastern Finland by curating an annual festival Gramofon Fest. So far artists like Mikko Joensuu, Sans Parade and Burning Hearts have been performing there. Additionally, Gramofon club nights are running throughout the year. Pannuhuone, the venue where Gramofon events are held, is like a local version of The Road House in Twin Peaks – maybe we should ask Julee Cruise to perform at our festival!
For a visitor I would say: go outside and if you have a chance, enjoy the contrast of the seasons.
Your latest single 'The Rain People' has just landed – what's the story behind the song? Where did you write it and what's it about?

It rained like two or three days in a row when I wrote 'The Rain People' and I left the doors open at our HQ those days. The song is about a girl and having that kind of connection when you don't have to say anything. You just know it when you see things – even things like rain – in the same way with someone.
What should we expect from your performance at Ja Ja Ja?!
We're gonna play a couple of tracks from our forthcoming album 'Dominique'. Really excited to get there!
Do you have any good new music tips to share with us? Finnish tips are particularly welcome!
Of course! Virta, a band led by trumpetist Antti Hevosmaa (who's also part of NEØV) is making an album. I have heard some mixes and I believe it's really going to be something. Another great Finnish band, Underwater Sleeping Society, has been recording lately. You should also check out the solo material of their singer Okko Nuotio.
It's also interesting to hear new music from Shivan Dragn and see what is happening after Magenta Skycode.
And finally, what does the rest of the year hold for you?
In the next few weeks, we're playing shows at Reeperbahn Festival in Hamburg, at Ja Ja Ja in London and at Lost In Music in Tampere. And then we're gonna fine-tune everything with the new album, 'Dominique'.