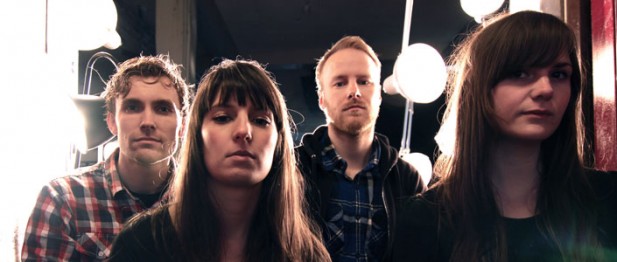 As soon as the drums and guitars begin their battle at the start of 'Flamingo', it makes sense that the name of this Bergen-based four-piece translates roughly to "instigator" or "the noise makers".
Norway's Krachmacher are made up of German-born Eva Pfitzenmaier on vocals and keys (apart from being a musician she's also a fine visual artist), Stephan Meidell on guitar, Linn Frøkedal on bass and Øyvind Hegg-Lunde on drums and describe themselves as "an avant-kraut-art-rock experiment gone pop" band. It's a fair enough assessment on the basis of the brilliant 'Flamingo', which crashes through your speakers on a wave of MBV-style noise, propelled by a rhythm section inspired by Krautrock and a vocalist in Pfitzenmaier who combines a sweet purity with focus and intensity that makes this track incredibly addictive.
Having released their debut album Paratrooper back in 2012, Krachmacher have gone away, honed their sound and returned with something bigger and better than what they've already given us. More layers, more noise; grooves and rhythms sounding super-powered, and fronted by a talent in Pfitzenmaier who only seems to be growing in stature.
'Flamingo' is out now on Klangkollekivet, and you can watch the video below: