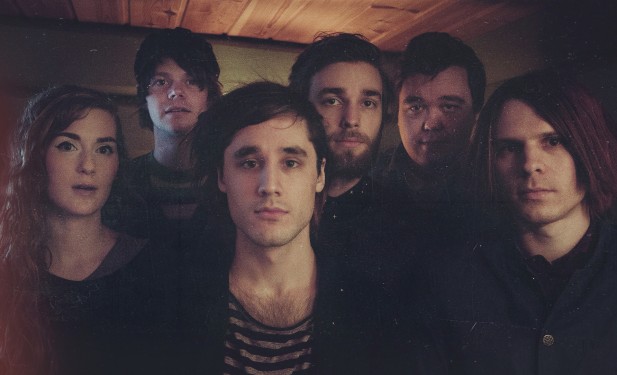 Fresh from revealing two brand new tasters – 'Blind As Night' and 'All Time High' – from their upcoming album, Norway's Team Me are now ready to return!
They released their first new track in a couple of years back in February, when the euphoric and dramatic 'F Is For Faker' was unleashed upon their eagerly awaiting fans. Since then, the band have performed a packed out show at The Great Escape festival and are set to perform a number of festival and live dates around their native Norway and in Germany in the coming weeks.
The charismatic six-piece from Elverum released their award winning debut album To The Treetops! back in 2011, and are now gearing up to release their second album Blind As Night! internationally in January 2015 (although you lucky Norwegians will be able to get hold of it on the 1st September through Propeller Recordings). While we count down the seconds until we're able to hear Blind As Night! in its entirety, we decided to catch up with the band to find out how the new album was made, what we should expect from their new material and how this summer's fishing conditions have been in Norway.
Spotlight Interview: Team Me
How has the Norwegian summer been treating you? Where have you all been and what have you been up to? 
It's been the warmest summer I can remember and the best freaking fishing summer ever. The band has been kind of spread all over for some time now, but we've done some shows in both Norway and Europe, which have been great.  Always a good thing to try out new songs before going out on a long tour to promote the new album.
It's been a while since the release of To The Treetops! and since then you've travelled far and wide, so can you sum up the last few years in a few sentences?! 
What kind of question is that?! [laughs] No, Seriously, it`s been totally mind blowing. I can actually tell my mum and dad that I've got fans in Japan now. How sick is that?
What's the story behind the track 'F Is For Faker'? How did you write and record it, and what inspired the lyrics?
'F is Faker' was actually an idea I started to work on while touring with the band. At the time it sounded more like an electro pop type of song, but in the end it ended up sounding somewhat more "band orientated", I guess.  The lyrics are pretty straight forward and it is the only 'love song/love declaration' I have ever written. It's about an amazing girl that I used to spend a lot of time together with. It's all dead and buried now though.
We're very excited about the announcement of Blind As Night! Where/how was the album recorded?
The foundation of it, such as drums and percussion was recorded at this legendary studio in Norway, dubbed Athletic Sound. It's basically an old gymnastic hall with amazing acoustics.  But most of the album was recorded in an old barn in our little hometown Elverum, together and without our co-producer, Hasse Rosbach and his dog, Theodor.
We lived in the same house together for about 6 months and recorded every single day. Needless to say, we all kind of went mad.
Do you have any interesting tales from the studio?
There was a lot of local moonshine going down our throats at the time, so it's all kind of blurry. However, we sobered up when we invited the local children's choir to join us for some vocal sessions, which turned out just perfect.
Are there any overarching themes or subjects that inspired you to make the record?  
I guess this album is somehow "darker" both lyrically and musically, compared to our previous record, To the Treetops.
You won a fair few awards for your debut record – did you feel there was pressure to write something similar, to keep with expectations?
There will always be songwriters who claim they don't get coloured by previous success and to that I simply say, lucky you. Lucky bastards, although I don't believe it. I was constantly thinking about the reception when I was writing this album and I'm pretty sure some of the pressure I felt at time, can be heard on some of the tracks. Probably all of them, to be honest. But then again, I'm a professional when it comes to being nervous, so it wasn't all that bad.
How do you feel your sound has advanced since the early days? What's been added/dropped?
It was recorded to sound like there is a band playing underneath all the different details, such as strings, melodic percussion etc. Hopefully people will notice that. I really hope it sounds a bit more alive compared to the previous one. At least that was our intention.
And how do you think you have evolved as a band? What have been the important lessons you've learnt in the past three years?
First of all I think we all have grown as individuals and learned a lot about ourselves, which is a great lesson when you're a band with 6 members. And yes, there is a thing or two we've picked up in terms of being on tour. Such as, not getting hammered every single night. It will fuck you up properly.
What are your plans for touring with the new music? Do you have big ambitions for the stage design – dancers, pyrotechnics etc(!) – or are you aiming to keep it simple?
In Norway (where we actually get paid) we're gonna expand the whole stage concept, but outside of Norway, we will probably have to keep it simple.
 Do you have any good new music tips to share with us? (Norwegian tips are particularly welcome!)
Yes! Always my favourite question. ..
Ludvig Moon (indie pop/rock)
Einar Stray (Dark melodic indie rock)
Jaga Jazzist (just awesome)
(All the three above will release new music this fall)
Apothek (electro acoustic two-piece)
Bror Forsgren (pop/rock)
The new Owen Pallett record In Conflict
Twin Pines Mall (hardcore duo)
And finally, what does the rest of the year hold for you? 
We're gonna play shows all over and just enjoy it as much as we possible can. I mean, it could all be over tomorrow and that basically means going back working for the man again, which sucks compared to what we're doing now.