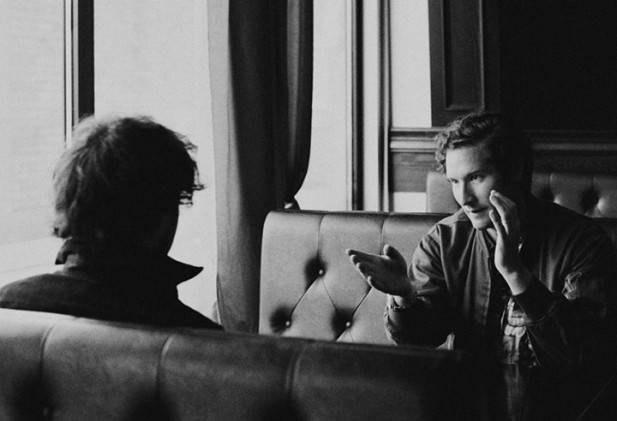 The best things come to those who wait. It's a saying of sorts, apparently, but it also applies to the approach Swedish duo Karl X Johan takes to making music.
Kalle Jönson and Johan Tuvesson have released one single per year since 2012 (plus a debut track called 'Flames' in 2010), and seem perfectly content at working at their own pace. That year, they dropped 'Do You Remember/Get It All'; a slice of gloriously pitched pop music that seemed to at first be a forgotten 80s classic while also recalling the sound of M83 around Saturday=Youth. Rather than rolling with the praise the track garnered, they waited a further year before releasing the pristine Balearic rhythms of 'Never Leave Me', a track so perfectly romantic and wistful you were tempted for the duo to actually NOT release any more music.
But release more music they did, again a whole twelve months on..the teases. 'A Better Tomorrow' is a fantastic track which nods once more to the 1980s; think of it soundtracking the sacramental moment in a coming-of-age film, that point where you know the powerful bond the two leads have isn't going to be broken by the authorities or rules and everything soars, and works out fine. Cut to twenty years later and their better tomorrow may consist of shattered dreams but for now, in this instant, it's everything.
So, surely now with three singles in three years Karl X Johan are ready for their big moment, their debut album? Well, we caught up with the band to find out what's going on with that…
Spotlight Interview : Karl X Johan
For those that haven't met you yet, could you please introduce yourself – who are you, where are you from, and how would you describe what you do?
We are Kalle Jönson and Johan Tuvesson, a Stockholm-based rock group stemming from different parts of Sweden originally. We met through mutual friends at the end of the last decade while touring with other projects. We only thought we would do one song together, Vingslag, but here we are. We try to make make beautiful songs that will last for a long long time.
Can you tell us a little bit about the background to 'A Better Tomorrow'? It's basically a soundtrack for a lost John Hughes film isn't it?
We can't remember exactly how it came about but it started with a melody that felt like a pilgrimage through the desert. And at that point we stopped production on all other songs to concentrate on that one all through winter. We always try to think in pictures and in movie scenes, so when you say John Hughes, why not.
Do you remember the first time the two of you met? Can you tell us about it?
It was back in 2006. We met in the smoking area outside a club in which we both had performed, but with different bands. I think Johan from Emotion, another Johan, introduced us and then sparks flew. It was like in that garage scene in Highlander, you know.
You're not exactly the fastest-working or most prolific of acts – why does it take so much time between songs? Are you perfectionists?
We are perfectionists but we're also working men who have to make a living outside of music. We don't have the luxury to live off our music yet, and that's kind of a big reason why our songs takes time. But there's also a will to always move forward with every song, to progress the sound and feeling, that also takes a lot of time.
Are we likely to hear an album from Karl X Johan? If so, what will it sound like? Remember, you did promise in an interview that it would be 29 April 2014…
There will probably be an album sooner or later, although it's not the end game for us. And if there is, it will be better than anything we've done before, that we promise.
Do you both share the same musical influences? Can you tell us what they are?
We usually get inspired by the same stuff. But it's a very hard question to answer in 2014. You listen to a lot of new music and a lot of old music and somewhere there you find your path.
There's a certain romanticism to your music that seems to come from nostalgia…do you feel out of place in the 21st century world?
Not at all, we have the internet and computers to thank for everything. We could never have recorded a song like 'A Better Tomorrow' with real musicians in a real studio, it would have cost millions. But you're probably right about romanticism, we like drama in our music.
Do you feel pressure to release a record? Would you rather pack it all in and go and live on a farm and forget the expectation we all have for it?
We don't feel pressure to release a record anymore, and that's why it might just happen! It's nice if people have expectations, it means we're doing something right.
Do you have any good new music tips to share with us? Swedish ones would be very much welcomed!
ODiN and a French guy called Tielsie.
And finally, what does the rest of the year hold for you?
We will actually try to release some more music, believe it or not.