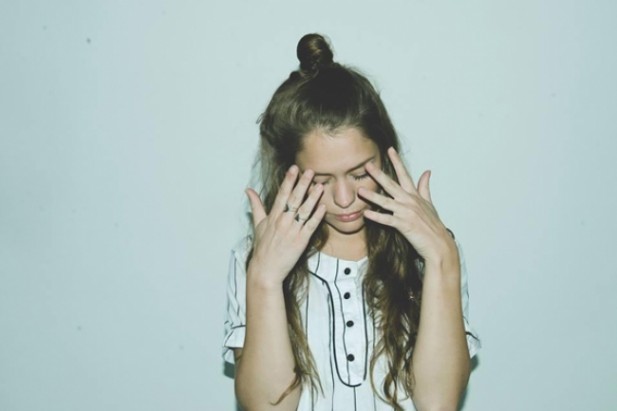 Since the release of her debut single 'Sway' back in June, the buzz and anticipation surrounding Norwegian artist Anna Lotterud, who goes by the moniker Anna Of The North, has been steadily snowballing and now seems set to engulf us all in a glorious wash of scintillating synth pop.
Having only been creating music for a scant few months, we think it's safe to say that the path to fame will be a short one for Anna. It seems that she has already managed to capture the ethereal nature of her home country through sparse, affecting synths and tightly flowing beats, along with a healthy amount of attitude.
Her latest output has seen her collaborating with New Zealand producer Brady Daniell-Smith and the results have been exhilarating. The future certainly looks bright for Anna Of The North, so we caught up with her to talk about entering the Norwegian music scene and what the future holds… and got a little bit more than we bargained for…
Spotlight Interview: Anna Of The North
For those that haven't met you yet, could you please introduce yourself – who are you, where are you from, and how would you describe what you do?
Hi I'm Anna. I'm from a little lakeside town in Norway called Gjøvik. If I had a boat I'd be on the lake all the time but I don't so I make music.
Your new track 'Sway' has been receiving a lot of attention since its release. How do you feel about the reaction to the track so far? 
It's incredible. We really appreciate all the support we're getting from people listening to and sharing our music. It's so nice to get feedback from all over the world.
As a Norwegian artist, can you us a bit about the Norwegian music scene you're working in, and how your own music fits into it?
It would be a pretty bold statement for me to say that I've been working in the Norwegian music scene since I only started doing music about 3 months ago. I guess the good thing about coming from Norway is that it's a small country so word travels fast when something new happens.
You've recently been working with New Zealand producer Brady Daniell-Smith. New Zealand and Norway are a long way from each other! How did this collaboration come about?
Brady and I met in Melbourne on stage at one of his shows. My friends pushed me to go play with him after hearing me play earlier that night. It's weird to think that if I hadn't got up with him that night none of this would be happening.
If you could work with any dream artists or producers in the future, who would they be and why? 
I'm a massive fan of Justin Vernon and I grew up listening to a lot of Fleetwood Mac so getting in a room with those guys would be pretty fun. I would also love to work with Branchez. Check out his remix for 'Wet' which actually makes me wet.
The first track you posted on your Soundcloud page was a cover of Donna Lewis' 'I Will Always Love You' (a beautifully reworked version of the song!). What does this song mean to you and why did you choose to cover it? 
I was reunited with Donna after almost 20 years apart. When she came up on my 90's playlist I was like god damn this is still a good song.
Where do you find inspiration (musically or otherwise) when creating your music and how do these elements affect your songwriting process? 
Sleep depravation plays a bit part. I only sleep about 4 hours a week. I get so tired that I start singing lullabies to myself and I'm like "shit I better record that".
Your sound has an ethereal, striped back quality to it. Is this sound intentional or is it something that comes happens naturally? 
Honestly I have no idea what I'm doing and neither does Brady. We know the sound we want but we don't always know, straight away, how to make it. It's mostly trial and error until we know and then you just know you know?
Do you have any good new music tips to share with us? (Norwegian tips are particularly welcome!) 
I shit you not. Morten Harket's daughter Tomine Harket just released a new song and it's pretty fun. Go check it out. For myself Bendik Baksaas band – Lover Ghost (also Norwegian) has been on repeat for almost a year now.
And finally, what does the rest of the year hold for you?
For the first time In my life I really don't know. Isn't that exciting?