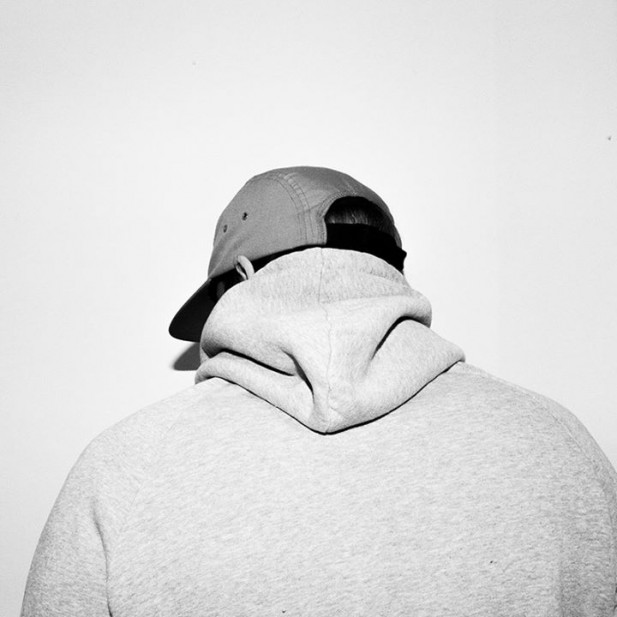 The first resonances from 1987 arrived in mysterious fashion around about this time last year… 
Upon releasing first single 'Ocean' into the ether last September, nothing was known about this artist other than a few hints drawn from the fact that the song was sung in Swedish, and the press photo showed a faceless being in a hoody. Many mystical theories could have been formed around a faceless singing Swede in a hoody, making delicate, irresistible pop music – but a little digging around, and the mysterious 1987 was soon discovered to be Victor Holmberg – a musician from Stockholm who was preparing to launch a series of solo songs and remixes into the world.
Since the release of 'Ocean' last September, 1987 has also released a track (and a fantastic video) entitled 'Michelle', remixed artists such as Alice Boman, Lucas Nord and Kid Astray, and made his debut live solo performance. He's now gearing up for his second ever show, due to take place at next week's Way Out West Festival in Gothenburg so ahead of that, we decided to catch up with Victor to get to know him a little better and to invite him to make a playlist sharing his perfect summer soundtrack…
Spotlight Interview: 1987
We've heard two beautiful singles from you so far, 'Ocean' and 'Michelle' – can you tell us a little bit about where and how you wrote those tracks, and what they're about?
I wrote both of these tracks around the same time in my old studio in Stockholm. It was during a weekend, at the end of the summer 2012, when I suddenly felt that I needed to get to the studio as soon as possible and write. So I took my bike and rushed through the city. And I spent three nights just writing these songs. I think at the end I ended up with 4-5 songs and then I went home. I was empty. And then I slept for a couple of days. At that time I had hit some kind of low point and had a lot to ventilate. I know that the songs are in Swedish and it's very hard to translate without it sounding a bit weird. But I don't really want to explain to you what they're about. The songs are written in a very deep hole, from where you're trying to escape from.
You've also created some awesome remixes over the past few months for the likes of Lucas Nord, Postiljonen, Alice Boman and most recently, Kid Astray. What do you enjoy about remixing other people's work? And how do you choose which songs deserve a 1987 remix?
I don't choose really. I rarely listen to the original track before making a remix. I don't want to be influenced too much by it. And I can't really decide if it will end up being a remix that is good enough. I always try and just do whatever comes to me at the time. Try and have a open mind and just play around. So the remixes tend to sound very different from eachother, or maybe that's just in my head. Making a remix is something I really enjoy. It's a chance to work with someone else's creation and make it you're own. They've done the hard work now I can just play with it.
Before you emerged as 1987, we'd previously known you for you work with Montauk – is that an ongoing project?
I don't really know. It's hopefully something that will be something one day but for now is on hold. We have some kind of instrumental album, almost soundtrack like, just lying there waiting to be released but we don't really know who would want to release it!
You'll be playing Way Out West festival this summer – what is the live 1987 experience like? What should we expect from the performance?
Oh… I've only played once and that was a secret show in Stockholm last christmas and I performed behind this big mesh covering the whole smoke-filled stage. Don't expect anything. Ever. Just be there.
You've been kind enough to make us a playlist today, so what's the idea behind your mix – why did you pick these tracks?
This playlist is a classic mix-tape. Something I would listen to while walking to the studio, or riding my bike on my way to the park, or lying on the beach waiting to get hot enough for a swim, or on the night bus on my way home from a party, or in the car on your way down to the summerhouse, or by the pool in greece, or in a cab with your girl, or lying in bed not able to sleep. THey're tracks I would usually put in a mix-tape when I was younger, mixed in with a couple of new ones.
Did you make a lot of mixtapes as a kid?
I remember making mixtapes all the time. Back then we did it on cassette and listened to them on repeat, the same tracks over and over again. Me and my friend Fredrik used to, on our lunch break, show our new mixtapes to eachother. We took one head phone each and walked around the park while the other kids were playing football behind the fence. I can't remember my first mixtape, I've made too many… I can remember one mix-tape from when I was twelve and it had 'Radioactivity' by Kraftwerk on it. Love that song.
When I was 13, during that summer, it must have been 2000, me and the same friend sent mixtapes to each other. And one track that I remember very strongly is 'Moked Out' by Moka Only. It was at a time when we had just begun to make music and I was listening a lot to hip-hop. I remember listening to this track somewhere in the south of Sweden, in the middle of nowhere, these pictures popped up in my head. Daydreaming of being somewhere else. I think I spent most of my childhood daydreaming about being somewhere else. And I think I like music that makes you escape, wander off in your head and see these different places in your head.
So what do you have coming up in the near future?
I'm currently locked in my studio. I want to get my album finished first of all then I'll come out and play. But I'm really looking forward to going to Way Out West and showing you a little bit of what I'm working on!
And finally, can you give us your top recommendation for a new Swedish artist to check out?
HNNY.