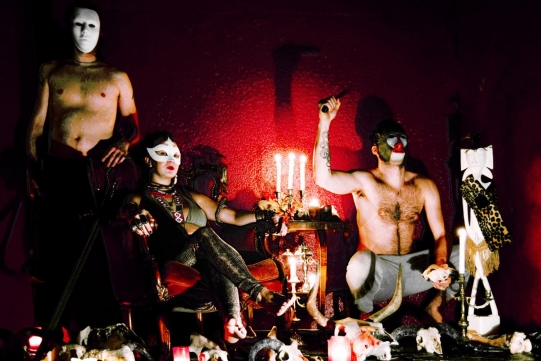 Swedish tribal loon-balls Goat are quite the band, live or on record. Their rousing combination of psych rock, acid drops and hypnotic rhythms probably gets as close to replicating an ayahuasca trip without actually downing a thimble-full of the drink itself.
2012's debut World Music was a crazy ride through the band's world of influences from funk, Afrobeat, Kraut and all mystical psychedelic stops in between, and that was followed up by the double live record Live Ballroom Ritual. With new album Commune on the way in September the collective has give us a taste of what to expect with 'Hide from the Sun'.
It's really business-as-usual for Goat (and there's nothing wrong with that) here, as spiralling detuned guitars rattle and sound like sitars, percussion batters around your ears like kits being thrown down a flight of stairs and female vocals wander and chant seductively about…well, something or other I'm sure.
Commune is out 23 September on Sub Pop, so listen to 'Hide from the Sun' here and see where Goat are taking their incredible live experience next:
July
6 – Belfort, FR – Eurokeennes
18 – Suffolk, UK- Latitude Festival
20 – Ostrava, CZ – Colours of Ostrava
August
3 – Stockholm, SE – Stockholm Music & Arts
23 – Paredes de Coura, PT – Paredes de Coura Festival
September
19 – Copenhagen, DK – Vega
20 – Tilburg, NL – Incubate
21 – Brussels, BE – Ancienne Belgique
23 – Berlin, DE – Postbahnhof
24 – Munich, DE- Ampere
25 – Paris, FR – Trabendo
27 – Liverpool, UK – Liverpool Psych Festival
28 – Glasgow, UK – SWG3
29 – Newcastle, UK – Northumbria University
October
1 – Brighton, UK – Concorde 2
2 – Bristol, UK – Trinity Centre
3 – London, UK – Roundhouse