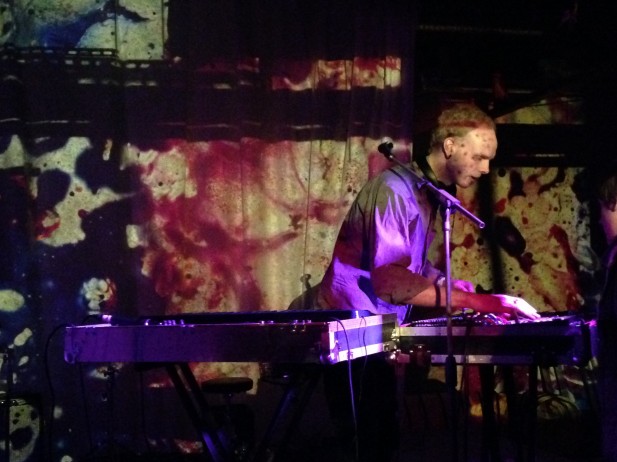 M-Band is the solo project of one Hörður Bjarnason. Oft seen with onstage with Tonik and Nolo, M-Band see him plant a flag of his own making.
Working towards a debut LP, this project is already gathering word-of-mouth acclaim, with early live bookings at Harpa and Tallinn Music Week. Horður's tall, thin frame makes for a distinctive stage presence as he deftly manipulates beats, vocals and synths through a table full of blinking pedals and screens, pausing to tweak the mix or pour forth his quite remarkable falsetto voice. He shakes and twitches, immersed in his process, giving a thoroughly engaging performance – it's no mean feat for one person to exert such gravity on the audience's attention.
Hearing these first excerpts from the album should give you some idea why. Horður's music is a hypnotic sound, gleaned from various corners of contemporary electronica, with songs built from minimal clicking rhythms, washes and whispers of ambient sound and haunting melodies, peppered with swells and crescendos.
'Launch' is the album opener – a quite beautiful, minimal, piano-led tune, and the whispery beat of 'All Is Love' shows another side of M-Band – taken together, they give a tantalising taste of things to come. With shades of Burial and Caribou, this is a sound that'll no doubt travel well.
M-Band is truly one to watch.