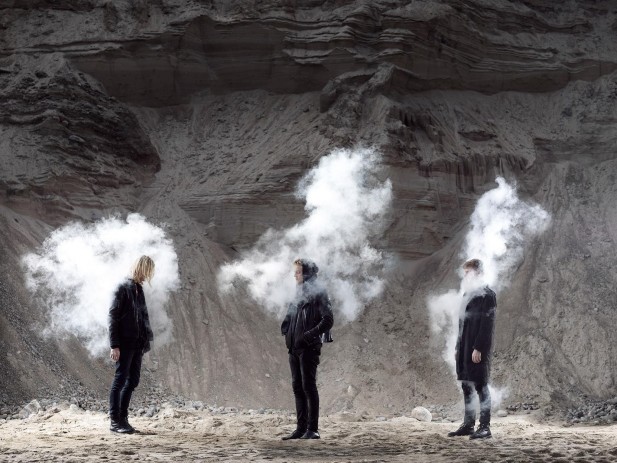 They're an intriguing bunch, Gothenburg's DNKL.
Aside from releasing their debut track 'Hunt' in the closing months of last year, before returning in March to reveal another offering, 'Battles', they've not revealed much about themselves. The two tracks that are currently available offer up lusciously dark tones coating hushed vocals, and DNKL have now revealed a video to accompany their last single, giving us a touch more insight into the kind of art they create.
Watch the brand new clip from the trio just below, and scroll down to read an exclusive interview with them, shining some light on the mystery surrounding DNKL.
Spotlight Interview : DNKL
For those that haven't met you yet, could you please introduce yourself – who are you, where are you from, and how would you describe what you do?
We are three guys; André, Jonatan and Claes, living in Gothenburg, Sweden. We started making some kind of noir electronic pop music last year.
The three of you all have musical backgrounds, how did you come to form DNKL and what influences did you take when creating your brand of electro noir?
Maybe the winter in Sweden is a bit too long? Or we watched too much of Bergman… We hang out together a lot and have helped each other with our different bands and projects for quite a few years now. Last year Jonatan and I were experimenting in his studio and we invited André to come along and try out some new sounds. We really embraced the sound of dark synths and slow heavy beats, and we started to work with a couple of sketches that Jonatan had made. After a few sessions together, it felt like we had started something really special.
You recently finished your first tour supporting Hundreds in Germany, how did that go down and how were your songs received on their first live outing? What did you learn?
It was a really nice tour, Hundreds is a great band with an extraordinary live performance. They put so much effort into making their concerts really amazing. It felt that our music was really well received by their audience and we learned a lot about how to bring our songs on stage and perform them. We think it's important to actually play live instruments as much as possible so we brought lots of new equipment to make it all work out. Which also means that we learned the importance to bring our own sound guy for the next tour.
As this is one of your first interviews, could you please tell us something that has never been heard about you before?!
Our great great great great great great grandfather was Eddard Stark.
How is the writing process for you guys, and how does it differ from your previous music writing experience?
With DNKL we more or less start to work on every song from scratch in the studio, building the tracks out of a rhythm or a melody. Usually someone has some kind of basic idea or sound to start with and the other two start to bring new elements to it. There is a lot of time to play around with sounds and trying out different ideas before we have actually have clue of how it's going to end up. It's a really exciting process.
If you could work with any other Swedish artist, who would it be and why?
Tough one. Maybe Karin Dreijer would be really interesting to work with. You never know what she's going to do next but she really manages to keep her distinct sound – from slow ballads to fast upbeat tracks.
What was the last thing you listened to?
Seekae, Asgeír and the new album by The War On Drugs.
You have so far released 2 brilliant singles, are there plans for more single releases or is the plan to release an EP/LP next?
Thank you. We'll see about that, there are more songs that we could release and even more music in the making right now… We can promise you will hear more music from us soon!
Do you have any good new music tips to share with us? 
The new I Break Horses album is great. So is the new Mary Onettes album. Niva always release good stuff too.
And finally, what does the rest of the year hold for you?
We will support Com Truise for a few dates in Europe in May, then we have a couple of festival shows (Way Back When, Roskilde Festival) coming up as well. You will definitely get to hear more new tracks from us and there will be more shows announced as well.