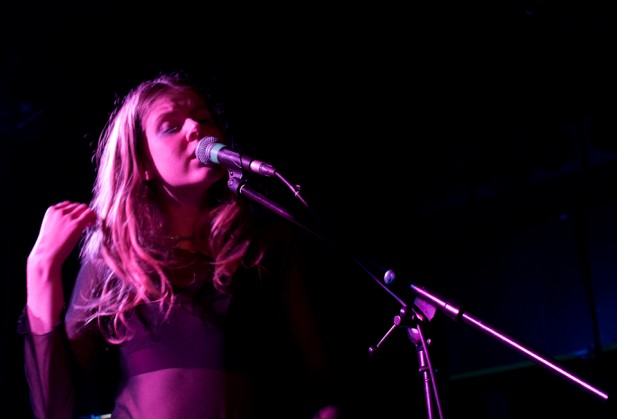 Photo from the Ja Ja Ja club night
Celebrating the release of their debut full length album Silkidrangar, Icelandic three piece Samaris were in high spirits as they hit the stage of London's Birthdays. Singer Jófríður Ákadóttir and clarinetist Áslaug Rún Magnúsdóttir appeared from the darkness complete with sparkling eye make-up and sequin adorned cheeks, like the elfin hosts of a forest rave, closely followed by producer Þórður Kári Steinþórsson (dressed normally), who took his place at the back of the stage behind a laptop and a mind boggling array of knobs and wires.
Samaris deal in a quirky type of atmospheric electro that incorporates Ákadóttir's breathy vocals layered over Steinþórsson's fuzzy, dub-heavy beats and Magnúsdóttir's free flowing clarinet. The fact that Samaris decided to include a classical instrument in their line up is something that may seem a little strange, but when you listen to their music and, as tonight and their recent Ja Ja Ja show amply proved, seeing them perform live, you quickly realise that this inclusion is an inspired one. Samaris drew the crowd in with 'Nótt', the opening track from their album, the first bars of which were elongated giving Ákadóttir a chance to become fully immersed in the music as she swayed, close to the mic, eyes closed. When the track was fully realised, a rush of spooky intensity was infused into the atmosphere and the track pumped out of the speakers sounding like the best song The Knife never wrote.
The reverb heavy soundscapes continued to wash through the crowd and by the time they band broke into the lycanthropic 'Góða Tungl' and album stand-out 'Ég Vildi Fegin Verõa', Samaris had truly hit their stride. The beats were slick and the vocals were textured with an electronically generated and bewitchingly off-kilter harmony, complemented by the dark timbre of the clarinet, giving the entire venue the atmosphere of an otherworldly rave. It soon became apparent that Samaris inject their music with a heightened level of intensity when they perform it in front of a crowd. Ákadóttir spontaneously incited the audience to dance and the front two rows, at least, willingly obliged (which, in case you didn't know, is very rare at a London show). With the crowd fully under the band's spell things all too soon came to a close. But after the customary round of hand claps and emphatic whoops, Samaris graced the stage for one more song, and it was probably the best and most intense of the evening. They blasted through their own interpretation of drum 'n' bass producer Subminimal's remix of their track 'Stofnar Falla', taken from their second EP. It represented a reworking of a remix of one of their original songs, which was a suitably meta end to an undoubtedly etherial and gloriously intense night.