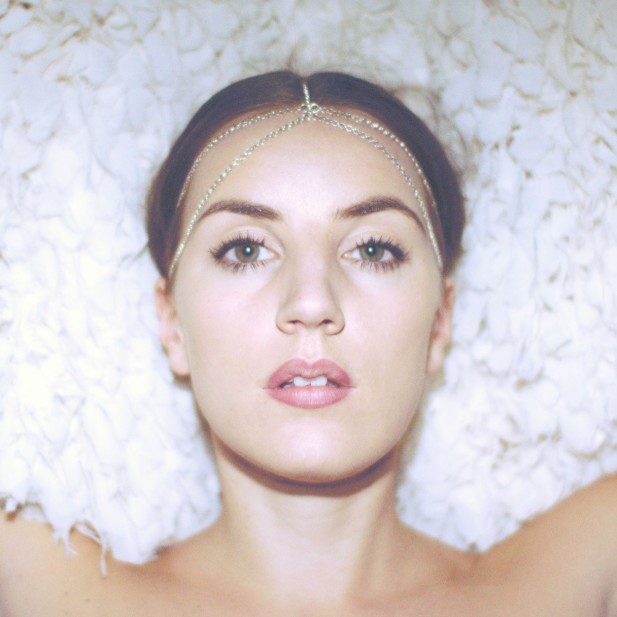 With two brilliant singles under her belt already in the form of 'Bon Voyage' and 'Stay Awake', Stockholm's Marlene is fast becoming one of the distinctive voices in Scandinavian pop music.
That might be a grand statement to make, but by eschewing the pure pop followed by many of her contemporaries in favour of an R&B style heavily influenced by both the US music she listened to growing up and her idol Robyn, the young Swede stands out in a very crowded field of singers. To be fair, it is R&B with a little helping of pop but her languid vocal style compares with the likes of Brandy or even Rihanna at her most relaxed and the sparse backing of beats and electronics on 'Stay Awake' suggests someone you'd file alongside BANKS rather than Lykke Li, while 'Bon Voyage' is a warm and slinky track that Ms Fenty would kill for. A stint singing with dubstep pioneer Benga might normally confirm her interest in doing something that bit different, but as we'll find out that collaboration wasn't quite all it seemed.
A third single isn't too far away, so in the meantime we managed to pin down the jet-setting Marlene and got her to answer a few questions about her career so far.
For those that haven't met you yet, could you please introduce yourself – who are you, where are you from, and how would you describe what you do?
I'm Marlene from Stockholm, Sweden and I'm doing music and everything else all that comes with.
What can you tell us about your single and video 'Stay Awake' that we might not know or expect?
Maybe that the video was both shot in Los Angeles in November and in Stockholm in January? And the song was written in New York in October.
Does the lyric "it's like I've been asleep forever" in any way reflect the time it's taken for you to launch your solo career?
It's a song about love, first of all. But there's definitely other things that you can apply the "getting awakened" theme to, as for me getting out there as an artist after a life long wait. So yes, you've got that right.
You've got a more R&B sound than a lot of other Scandinavian singers at the moment, where does that come from?
I've listened to American R&B for a long time. For years I felt I didn't match the Swedish music scene at all. For just two years back barely no one ever talked about R&B in Stockholm. It was so hard finding a club that played music that me and my friends actually wanted to hear and would dance to. It was all about more quirky indie pop/rock music, like Lykke Li, Peter, Björn & John, Miike Snow and so on, which is really good but not what I do myself. I remember I was a bit worried no one would understand me and my music in my own country. Now that my music is out they actually seem to appreciate it a lot! Maybe mostly 'cause there's been a huge wave of R&B/hip hop music flowing over Sweden lately so now they can relate more easily to my music than they would have done before, I don't know…
What did you listen to as you grew up – influences from parents, siblings? And musical influences that helped shape you as an artist?
My first record was Robyn – Robyn Is Here. I was 10 years old and even cut my hair like her, so guess she was an early influence in my life. I also loved watching MTV and make my own choreographies that I performed in front of my whole class on the "fun hour" every Friday afternoon. Haha. I loved Cleopatra, Spice Girls, Christina Aguilera and all of those classic 90's artists really. I loved 'Genie in a Bottle' by Christina Aguilera! But my absolute favourites were Hanson. I don't think I've been a true fan like that to anyone since then! After that I had an era of listening to darker swedish pop, like Kent, but it only lasted for two year maximum. My parents have always listened to a lot of gospel, jazz and pop so that has always been around me as well.
Can you tell us about your time with Benga – what did you learn from working with him and do you have any more plans to collaborate with him or anyone else?
Oh… Benga. It was fun to travel and perform in front of a big audience, but at the same time me and Benga don't share the same audience anyway so it doesn't really help me today. I don't even like the music to be honest… It was just something I did cause it seemed fun at that time, but I wouldn't do it again today. I've realised the UK underground scene is nothing for me. But the most important lesson from that time is I learned to only do things that I like myself and to do it my way. I can't be part of anything again that I don't totally have my heart in. And didn't he just quit music? [He did indeed]
What can we expect from a Marlene album?
I haven't written a whole album yet, so I don't really know what to expect myself. But if I'm guessing it'll be lots of Swedish melancholic R&B and pop, beautiful and dreamy sounds and lyrics about my life.
What's the story behind the infinity symbol that accompanies your name?
It's basically just a fun thing. I wanted to name myself only Marlene, as that's my real name. But just to spice it up I added the infinity symbol, like a graphic thing that shouldn't be pronounced. I also like the word "infinity" itself. It's both beautiful and scary at the same time.
Do you have any good new music tips to share with us? Swedish tips are particularly welcome!
Yes! You should all check out Beatrice Eli and her latest single 'Girls' and Ji Nilsson's single 'I'm Her'. Sabina Ddumba also released her first debut single 'Scarred for Life' not long ago and it's really amazing! And I guess you've already heard the new Lykke Li single 'No Rest For The Wicked', but if not -listen! That chorus is soooo good.
And finally, what does the rest of the year hold for you?
There'll be a 3rd single coming out soon and an EP too. Apart from that I'm going to play live as much as I can as that's my favourite thing to do, and also start writing on an album. I'm hoping to travel a lot too. I love the feeling of going away and the feeling of coming home.