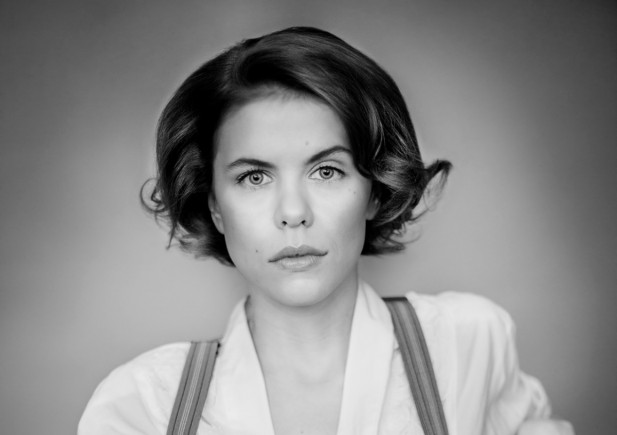 Just ahead of Suvi's performance at the upcoming Ja Ja Ja club night, we caught up with the entrancing singer to find out more about her, the first record that she fell in love with and the "trippy, warm and powerful" experience she has in store for her Ja Ja Ja performance.
Spotlight Interview : Suvi
For those that haven't met you yet, could you please introduce yourself – who are you, where are you from, and how would you describe what you do?
My first name is Suvi – I'm from Finland but I have lived the past 8 years in Stockholm, Sweden. I'm an artist and I write music, mostly with the same crew. I have started to write for other artists as well and also opened up to new co-writes. I love writing, performing and listening to music and being out in the nature – among other things that awaken the senses and challenge me in someway.
You're Finnish, but now based in Stockholm – what are the biggest differences between the two music scenes?
As I mentioned earlier, I'm from Finland but I've been in Sweden for the past 8 years – we'll see what's up next! Stockholm has somehow faced big challenges when it comes to the live scene here. There are many people trying to do CPR on the scene so there's still hope… On the other hand a lot of great music is written here and we also have many top-class musicians. The songwriters are still the "forte" though, I guess.. Helsinki has really grown and the live scene there is just crazy. So are all the creative fields. It seems like there's constantly something new cooking. Finland might become one of the top music export (and music-lovers import) countries sooner than we think!
'Bleeding For Your Love' was a great success last year, and you've just released your new track 'Find You' – has the reaction been as you expected? What has been the most exciting thing to come from releasing these two tracks?
The reactions have been very positive so far. People are starting to find their way to the music, which is the whole point in releasing material – to get it out there. But writing songs and releasing them is kind of like bringing up children (I don't have any so I'll probably need a second opinion on this, preferably from someone with kids in the music business) – you know, one brings them to this world, gives them all the love and care one can, puts in tons of work together with others – only to see them leave the nest. And then it's sort of up to the song to make it. The most exciting thing has been to have so many talented, hard working and beautiful people to work with; the songwriters – especially Julius who has done most of the productions (including the video!) as well – the band, and my manager along with the PR-peeps and the rest of the team. I'm so grateful. I know I'm not the easiest person to work with and they still put up with me!
Can you tell us a bit about the brilliant video for 'Find You'?
It was produced by Julius Duhs (he has co-written 'Find You' with Carl Johan Holmqvist and myself – he has also produced the song) and co-produced by Anton Friskopp who also did some production-wizardry on the track and helped Julius with the mixing. The video is an on-the-road-documentary thing with some trippy effects to emphasize the message and feel of the song.
What can you reveal of what you're working on at the moment?
I'm working on the next single and finishing other songs. I've also been rehearsing with the band a lot and finding new collaborations.
Do you remember which was the first record you ever fell in love with? Do you think it's helped shape your sound now?
My Mom only recently reminded me that we used to listen to Mozart's 'Die Zauberflöte' in the car when I was four years old. My favourite was to (try to) sing the famous aria with the Queen of the Night, 'Der Hölle Rache kocht in meinem Herzen'. Now there's a kid with major hybris! Not my favourite Mozart piece if you'd ask me now. I also remember hearing Nirvana's 'Smells Like Teen Spirit' when I was maybe eight or nine years old and being both scared and spellbound by it.
What can we expect from your Ja Ja Ja performance? How should the audience feel after you've finished?
I hope they'll go home (or to an after party?) with the songs stuck in their heads. This music should work both as "listening music" and something to vibe to. I also wish to be able to deliver an ecstatic live performance – something a bit trippy, warm and powerful. But these are goals for the long-haul. I'd also be really pleased if people told me that they simply had a good time.
Do you have any good new music tips to share with us? (Finnish and Swedish tips are particularly welcome!)
Oh my. I get this question really often and the truth is that I'm pretty lost when it comes to the most recent stuff from both Sweden and Finland – so in other words, I'll have my ears wide open at Ja Ja Ja. Also, do you mean artists or songwriters? Oh hell, let me think…
The only new Finnish song I come to think of is 'Puutarhajuhla' (Iisa, Knipi). I dig the production. Goat – 'Run To Your Mama' is, according to me, one of the best Swedish songs that have come out during the past few years. But that's circa 2012. Niki & The Dove made a solid album that year. Good year I guess! I'm also the last person on earth to discover new music. Like for instance, I've recently been listening to Massive Attack's  'Paradise Circus' on repeat. I only heard it a few weeks ago – and it was released 2010! Great song. To die for, really.
And finally, what does the rest of the year hold for you?
Hopefully lots and lots of great gigs and finishing an album. Releasing new songs. Travelling. Adventrures. The works!