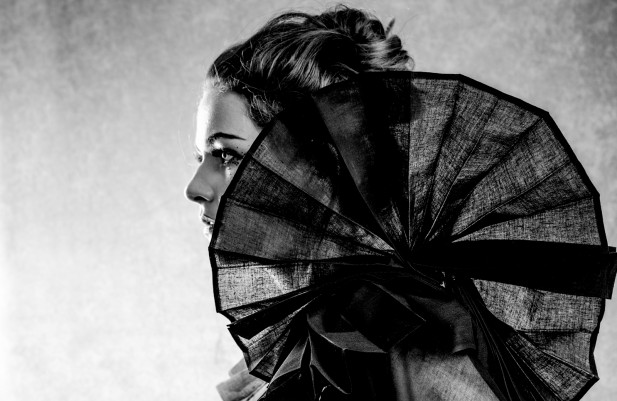 London-via-Norway singer-songwriter Kari Jahnsen, the IRL persona of singer-songwriter Farao, gave our emotionally congested ventricles a thorough decluttering with her debut eponymous EP.
Acting like sonic AC, the brittle-timbred folktronica sends more shivers down your spine than someone dropping an ice cube down your back. A medley of acoustic flutterings, glacial synth pads and the caustic snap of frostbitten percussion, she echoes Rachel Sermanni's glasslike take on heart-rending folk (though Jahnsen's also got an itchy knob-twiddling finger).
One standout moment (of the many) on the EP is 'To Sleep Apart'. Replete with fret-buzz and lo-fi dreampop synth fuzz, languorously limping 'twixt the veil of slumber and reality, it's a paean of romantic epicness. Not overtly heart-on-sleeve puppy-eyed gush, it's imbued with dark, lovelorn hues à la Nirvana's 'Heart Shaped Box'; the core tenet is admirable, and packs a sucker-punch to the diaphragm, especially in the freshly threshed middle eight.
Naturally, with her impeding set at this month's Ja Ja Ja club night on the 24th April, we spoke to Jahnsen. We found out what makes her tick (spoiler alert: Cheryl Cole, Sufjan Stevens and Thom Yorke), her debut EP and what the immediate future holds.
Spotlight Interview : Farao
For those that haven't met you yet, could you please introduce yourself – who are you, where are you from, and how would you describe what you do?
I am a Norwegian artist living in London, where I've been based for the last three years. I write music that has been described as melancholy and ethereal folk/electronic indie.
Where and how did you write and record your Farao EP?
I recorded my debut EP in Iceland, with producer Mike Lindsay. It was an amazing experience to record there, it's a very inspiring and culturally vibrant place. The songs were mostly written during my first years living in London.
Is there a theme or a central story to it?
The songs are mostly about romantic relationships, but also the relationships I have with my family and friends. I like to put myself in the other person's shoes and sing back at myself.
Could you run us through the meaning of 'To Sleep Apart'?
I think just sleeping beside a person that you care about can be so intimate and meaningful. I wanted to capture that feeling in the song. The focus isn't on the physical relationship between two people, but on the intimacy of sleeping in the same bed.
What makes you dance?
I'll probably lose some fans over this, but if Cheryl Cole's 'Call My Name' comes on I will be on the dance floor within seconds.
What makes you laugh?
The funniest thing in the world is out of tune music. I can't tell you how many times I've laughed and cried over the Stacy Hedger Star Wars trumpet solo on Youtube.
…and what makes you cry?
I get pretty sobby every time I hear Sufjan Stevens' 'Casimir Pulaski Day'.
Who's been your biggest musical inspiration? In what ways have they made their mark on you?
That must be Thom Yorke. Seeing Atoms For Peace at Roundhouse last summer was one of the biggest musical experiences I have ever had. Radiohead has been a huge inspiration to me ever since I discovered them when I was 18.
What can people expect from the Farao performance at Ja Ja Ja?
I will play with my full band, and half of the set will be brand new songs from the album.
Do you have any good new music tips to share with us?
Yes! Angelica's Elegy is a very, very good Norwegian band at the moment.
What are you working on at the moment, and what do you have coming up?
I am currently recording my debut album in Reykjavík with Mike, the same guy who did the EP. I have already recorded half of the album, and I'm going back in May to finish it. It's been going really well, and I can't wait to show it to you. I'm also doing some shows in Germany, Denmark and London over the next couple of months.
And finally, what does the rest of the year hold for you?
Finishing the album, touring and playing festivals in the summer, releasing the album at the end of the year.