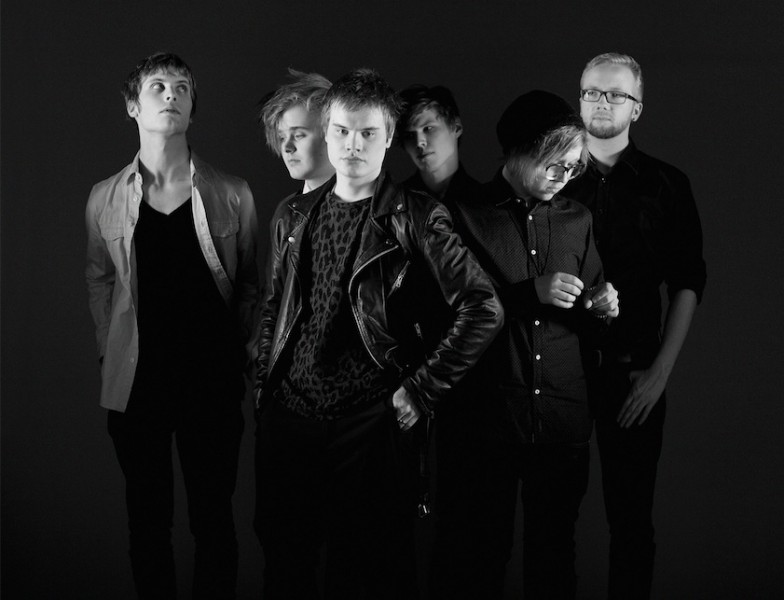 This interview's pretty overdue considering that Oulu's own sonic darlings The Scenes are scuttling forth towards the finish line on LP numero dos. Combining a brazen honesty and scathing world view in the lyrics, they punctuate their rockin' tunes – which sound like the mid-point between Interpol and Radiohead (at least on recent single 'Anorexia Is Boring') – with a bolshy personality that's rare in these trying times.
As the band are keen to point out, they're not reinventing the wheel here. What they are doing is giving it an old-fashioned spitshine, polishing the hallmarks of their chosen genre for a modern day audience and to fulfil their needs. What we end up with is a post-punk/indie-rock melange with dour-lipped motoriks and enormous stadium riffs that wouldn't look out of place on U2.
We grab a bite-sized moment with guitarist Miki Liukkonen ahead of their Ja Ja Ja performance on Thursday March 27th and talk musical evolution, Oulu, and what the best record in fifteen years is.
For those that haven't met you yet, could you please introduce yourself? Who are you, where are you from, and how would you describe what you do?
We are a band called The Scenes and we're from Finland, from a small and quite cold city called Oulu. Basically we're just a rock band. There's no use to invent yourself a "new genre" to describe your music which is what most bands do these day, but they're just lying and trying to make their music sound more original, which it most likely isn't. We're really trying to bring back depth and meaning into music and of course make so good songs that they will live forever.
What's Oulu like for local music? Do you feel it's been helpful or problematic beginning as a band there?
It's been quite problematic, because all "cool" bands come from Helsinki, at least people think they come, so at first we had to struggle with that you know, all those cool bands just looking us like we're a bunch of hillbillies or something, don't find the right word right now.
What's the most important record in the world for you, and why?
Well it changes a lot. Some days I think it is "Revolver" by the Beatles, because I never get tired of it (in fact we just made a cover version of one of their songs on that album, "Tomorrow Never Knows), and some days it is, to me, Holy Bible, by Manic Street Preachers. I really love the lyrics. There's not so much bands like that anymore.
What's 'Anorexia Is Boring' about? It's got quite an inflammatory title!
It's about many things. Basically it's about boredom in a way that anorexia becomes routine like everything else in the world. It's about anti glorification and "selfie-terrorism" which is really kinda twisted way of attacking against todays narcissist society. And it's about Twiggy as well, not in any deeper meaning though, Twiggy is just a good looking word, and I always think of good smelling pink silk when I think of the word "Twiggy".
How's the second album coming along? Do you have any stories to share from the studio?
There's no really much stories. Album is finished. We made it really fast. That's the way anyway we like to do thing, in a kind of "neurotic bursts", which give all the songs a feeling of danger and the possibility of everything falling apart.
What should people expect from it?
Best record that has come out in 15 years.
How would you say you've evolved from your debut to this new record?
We're not trying to add too many things in one song anymore, I think we also use better chords and better tempos, we've written lyrics that aren't too abstract but still remaining their kind of twisted approach to everything. We don't have so much choruses in our songs, there's no need for them. People who wait for choruses all the time are most likely those kind of people who love meaningless Hollywood movies which no other point than make you buy some popcorns.
Do you have any surprises in store for the Ja Ja Ja show? What should people be looking forward to?
If I told you that wouldn't be surprise anymore now would it?
Do you have any good new music tips to share with us? (Finnish tips are particularly welcome!)
I'm not so good at this because I don't really listen Finnish music. Oh, there is actually a band called Mushmouthed Talk, friends of ours. Good tunes, bringing back the basics.
And finally, what does the rest of the year hold for you?
Gigs mostly. Hopefully more gigs.