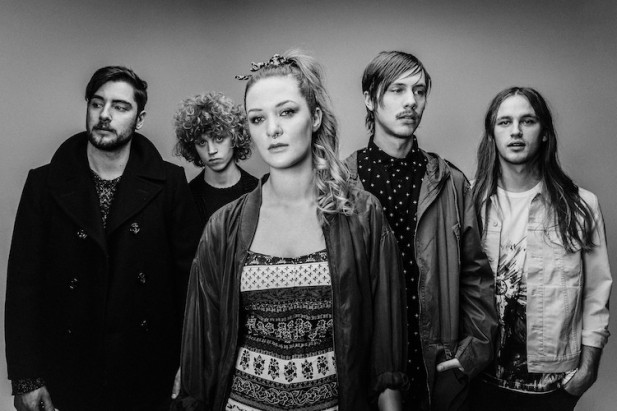 Yoinking titbits from '60s/'70s pop legends (think Fleetwood Mac) and cutting-edge synth-pop, Stockholm's Last Lynx nurture a retro sound on the same spectrum as Haim – though they sit pretty on the opposite end. Where Haim's nostalgic guitar-pop veers towards rock and, more broadly, R&B, Last Lynx's vintage tones are relaxed, smooth-as-silk and sanded-down.
It's chilled-out pop for those meandering in the past, brimming with elegance and uplifting choruses. Earmark them as ones to watch for summer, as with their innate warmth and sun-pecked hooks, they'll flourish in the coming months. Saturday afternoon festival vibes are apparently what Last Lynx are peddling to the masses.
'Lacuna' a delicately funky cut crammed with clipped bars and slinking romance. It's reminiscent of contemporaries Arthur Beatrice, with glossy elegance and indie-disco tendencies; it's got a strident dance streak, but it's not the kind of dancefloor fillers lobbed out by DJs. It's for summer boogies and subtle shimmies. While clearly their hearts belong to the zeitgeist of yore, the five-piece ensure that one foot remains in the present at all times by nailgunning dreampop pads or electronica swooshes onto the glory.
Ahead of their Ja Ja Ja performance on the 27th March, we managed to have a little catch up to get the skinny (do people still say that? No?) on their new EP and what we can expect from their live show.
Spotlight Interview: Last Lynx
For those that haven't met you yet, could you please introduce yourself – who are you, where are you from, and how would you describe what you do?
We're Last Lynx, all of us born and raised right outside of Stockholm, Sweden. We play indie-pop inspired by the '60s pop/soul and influenced by modern electronic music.
Who or what inspired you to create music?
It's hard to nail it down but maybe loss or gain in relationships. Seasons shifting – living in Sweden you go through the dark grey months of autumn and winter into the colourful transition to spring and summer. We're all very much outdoor people and get very affected by the weather.
Another inspiring aspect is being in the middle of the flourishing music scene in Sweden and being able to work with very talented and experienced people.
What do you think you would be doing now if you weren't performing together?
Camilla: Travelling, learning different languages and studying music.
Robin: Probably playing with another bunch of funky cats or making some sort of instrumental solo thing. Also travelling around a whole lot more.
Fredric: Definitely something to do with music.
Kim: Probably playing acoustic guitar covers at some friend's mum's/dad's birthday parties.
Marcus: Most likely playing in another band or just writing songs
How did 'Lacuna' come together? Was it a gradual evolution or a spurt of genius?
It started out with a bass line and then the whole thing kinda just came together naturally. 'Lacuna' was one of those songs that was pretty much all done from the first draft.
What's the most important lesson you've learnt as Last Lynx?
The whole business side of music was completely new to all of us, and now we feel confident in that part of the music industry. The most valuable thing is to work with people you trust and are on some kind of same page creatively.
How is the Rifts EP coming along? What should we expect from it?
It's coming along great. It's the same Last Lynx vibe in the sound atmosphere – a mixture of soulful '60s influences, playfulness vs. anxiety, and love/friendship loss/gain in the lyrics. We've kept on working together with Martin Bejbom who has done the artwork for all of our releases. Lasse Mårtén has mixed it and Robin who plays in our band has produced it, as he has done with all our releases. If there's something that stands out in difference to the earlier releases it's that we haven't hold back on the soulfulness in the slower songs.
What are your plans for your Ja Ja Ja show/trip to London?
We're so excited to finally be playing in London, we've gotten such great response from there especially regarding 'Lacuna'. We're gonna play Manchester the day before at Night and Day and then spend three days in London before we're heading home this time around.
How should people walk away from your shows feeling? What do you try and achieve with your live performances?
Most of us get really inspired after seeing a great live performance, to make our audience feel the same way would be extremely cool. Our goal is that people are gonna be humming our melodies for days and days afterwards.
Do you have any good new music tips to share with us? (Swedish tips are particularly welcome!)
Nicole Sabone, Wintergatan, Cloud Control (AUS), The Crêpes.
And finally, what does the rest of the year hold for you?
First we have the release of the Rifts EP and then we made a collaboration with Adrian Lux on one of his new songs that's gonna be released quite soon. After that we're hoping to be touring a lot but there's not much set in stone just yet.