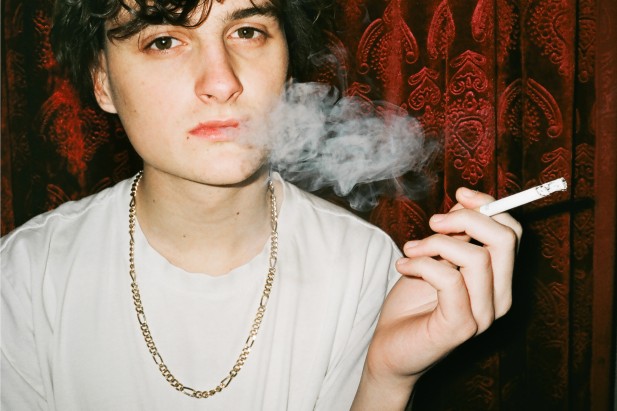 Based in Copenhagen, 19-year-old Jonathan Schultz, AKA Schultz & Forever is preparing the release of his first ever LP. Chances are, it's not going to sound much like his earlier, folkier work – or so rumour has it – but with just one track (the recently premiered 'P.O.V') to stream from this new phase, his rejuvenated sonics remain shrouded in mystique.
Ahead of his first ever UK show at our club night at the Lexington this week (tickets available here), Schultz has a good old chinwag with us, explaining his new record's parallels with Russian literature and why he's not too fond of his debut EP, Odd Stories.
Spotlight Interview : Schultz & Forever
For those that haven't met you yet, could you please introduce yourself – who are you, where are you from, and how would you describe what you do?
I'm Jonathan. I'm from Copenhagen and at the moment I'm doing music.
What bands/records have defined your journey so far?
No bands or records have defined my journey. A lot of artists have helped me achieve a better understanding of how I want to express myself. Dostoyevsky whom I've only just recently gotten into helped me express physical illnesses. I received The Idiot as a Christmas present from my family and some of my lyrics on the debut album are highly inspired by the lead character, Lev Myshkin, and his fight with epilepsy. I've really tried to distance myself from other people's music making my album. I used to imitate and I don't want to do that anymore.
Who or what inspires you to make music?
I'd like to say that everything that happens to me inspires me.
How's the record progressing? How and where and when was it recorded/written?
The album is nearly finished. We started a couple months ago and it's turned out to be great. I really like it. I've been writing for this album for the past year or something and it's recorded in Copenhagen.
Why has there been such a long gap between Odd Stories and this debut LP?
I needed to find myself. I really, really sincerely hate the music I did before. The fact that Odd Stories is still out there in the stores, on the Internet, and at my friends' desks, etc. is killing me. I've grown so much these past three years since I did Odd Stories, and the music I'm doing now is much more personal and honest. Everywhere, I was stamped as a 'melancholic, 17-year-old boy who wrote folk songs and STILL lived with his parents'. I hated that everyone wrote I was living with my parents. Like it's weird to live with your parents when you are fucking seventeen? I was depressed and annoyed and I needed some space from everything. I moved to Copenhagen really quickly.
How do you feel when you're performing?
Usually I feel good. I'm just always nervous and I'm really anxious about playing this album for an audience. It's really exciting.
What can the Ja Ja Ja audience expect from a Schultz & Forever show?
It's our first show. I have a new band and we haven't played these songs live before. Expect that we're probably going to fuck up some notes.
Do you have any good new music tips to share with us? 
Young Dinosaur and Waldo & Marsha. Two good bands.