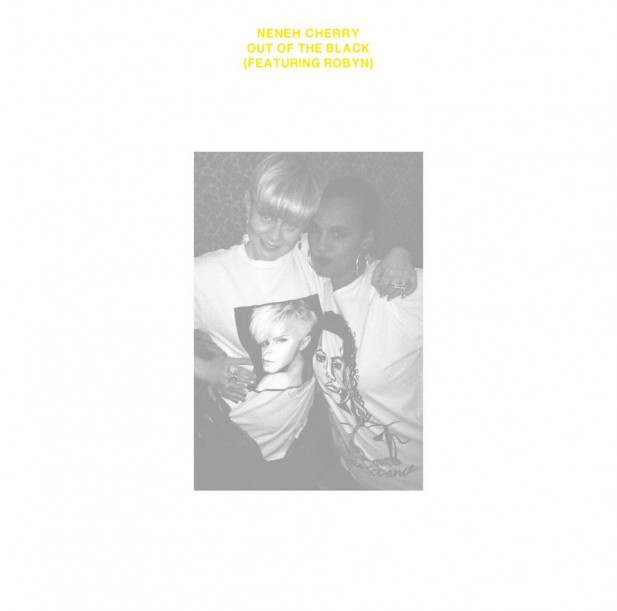 Neneh Cherry. Robyn. On the same record. Together. No, you are not dreaming. No, this is not an early April Fool's prank. This is very real. All we need now is for Agnetha and Loreen to sign up, and Sweden would have a force of Pop Power Rangers so elite the evil forces of Justin Bieber and One Direction wouldn't stand a chance.
Joking aside, two of Sweden's most internationally successful pop stars teaming up on the same record is incredibly exciting. Robyn's admiration for Neneh Cherry was embodied as a poster on the walls of 'mini Robyn' in the video for 'U Should Know Better', and in recent interviews Cherry has mentioned the two have been in contact since Robyn's debut in the mid 90s. So whilst the collaboration is not a huge surprise, it is still entirely welcome.
On the Four Tet produced track 'Out Of The Black' you'll find Cherry's signature hard edged rhythmic grooves blending with a darker, more melancholic take on the sort of synth lines you'd expect from Robyn's dancefloor friendly pop sound, which plays to the strengths of both to great effect. The pair's vocals play off each other throughout, but also intertwine in harmony, creating a fusion of their respective styles which becomes something entirely unique.
Blank Project is Neneh Cherry's first album since 1996's Man, which will be released on February 24th via Smalltown Supersound, with two London shows scheduled for the 25th & 26th ahead of a string of European dates. Robyn is also keeping herself busy with a number of festival appearances booked in as a part of her collaboration with Röyksopp, including Latitude Festival on 17th – 20th July.