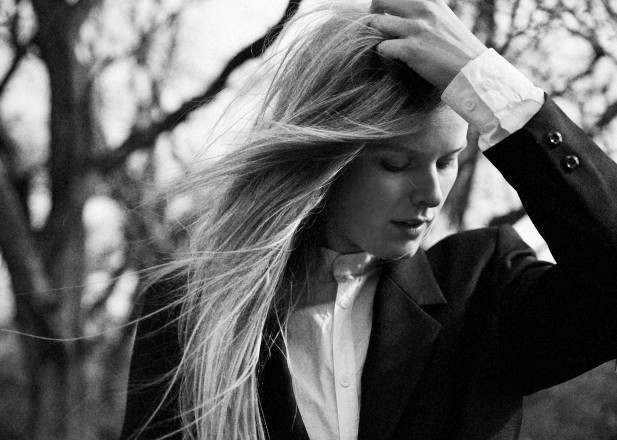 Throughout 2013, Denmark's Lisa Alma kept herself very busy crafting not only her self-titled debut album, but also the exquisite self-produced visuals for tracks such as 'Down The Hill', 'Tuesday' and 'Our Time'.
So we're thrilled to be able to present the premiere of her brand new clip 'Magic Power' today, as well as an exclusive Spotlight interview with Lisa. Scroll down to find our more about this intriguing artist, and to feast your eyes on her brand new video for the track 'Magic Power'.
Spotlight Interview: Lisa Alma
For those that haven't met you yet, could you please introduce yourself – who are you, where are you from, and how would you describe what you do?
My birth name is Lisa Bregneager Larsen and I live in Copenhagen. I was raised on the west coast of Jutland. When I was 10 my family and I moved near Copenhagen. I write and produce music and stuff in my home studio.
What can you tell us about your new single, 'Magic Power'? It sounds like it juxtaposes the mystery and magic of love with the normality of things like moving in together and settling down…
I was repeatedly dreaming about this strange woman. It was a weird dream where everything was purple and happened in slow motion. There was a lot of smoke. Nothing really happened but it was so magical. One night I woke up in the middle of the dream and captured this song. I haven't had the dream since then.
What magic power would you like to have?!
Being able to repeat or experience past moments again. Being able to fly. For example over China. With a bottle of Jameson in one hand and the strange woman from my dream above in the other.
You're currently with the Ikaros label, and before that Minty Fresh. You've been lucky to find supportive labels so how did you end up with working them?
In 2012 I put some music out on my own. A couple of months later I was contacted by the new established label Ikaros and we decided to collaborate. We were contacted by the Chicago based label Minty Fresh right after putting the record out (they signed The Cardigans in 1996). Minty Fresh established a contract with The Windish Agency which – I think – is one of the best international booking agencies in the world. You can check out their list of artists for yourself.
You've supported the likes of Postiljonen and Olafur Arnalds; do you look to learn from artists that you play and tour with – is that important to you?
Getting to know musicians that you respect by supporting them is like killing two birds with one stone. Supporting acts in Denmark are difficult compared to playing support in the US. The American audience are much more open to a support act. In Denmark we are very up tight when it comes to experience new acts – and in general. It's a shame in my opinion. Therefore it was crazy to experience the American concert culture when we toured with Olafur Arnalds on the east coast. When we played in Cincinnatti we got a standing applause without anyone knowing my music before hand. I have never ever tried that before.
Your music videos have a very strong aesthetic and a filmic nature – are they products of your imagination?
I see my videos as an extension of my music. It opens up for an intimate room where my musical and visual mind meet. I'm very inspired by photography. That you can tell a story through one still image. At the moment I'm studying Duane Michals and Francesca Woodman. For what I'm doing I think it's important that the visual expression is connected directly to me – then it feels like I'm telling the story. It does not mean that I can't co-work with other people.
You studied at the London Centre of Contemporary Music… is this the place where your love of electronic music began and who influences your music now?
When I was 18, I moved to London and studied vocal performance and music production. I realised a lot of things when I lived in London. First of all that I was very young and I felt very alone. But the school was good for me. I learned how to work and produce in Logic. I realised that I would never be a good technical singer but I should go with my emotions in writing and producing music – I could be a story teller.
I believe you have a degree in theatre and performance… how does this influence your music?
After London I started studying at the University of Copenhagen. Reading theory and history opened my mind. Studying at university made me ready for what I'm doing right now.
Do you have any good new music tips to share with us? (Danish tips are particularly welcome!)
Blood Orange (Chamakay), Jungle (Drops), FKA Twigs (Papi Pacify), Rosie Lowe (Right Thing), SOHN (The Wheel), BANKS (Warm Water)… Danish acts: Rhye, CTM and Quadron.
And finally, what does the rest of the year hold for you?
I'm really excited about my new EP which will be out in February. In March I'm going back to the US for SXSW in Austin. It's a very big thing for me playing this showcase/festival. I want to write and record new stuff during the summer. Hopefully I will be visiting the US again in the fall. Let's see what happens. I'm ready as hell.