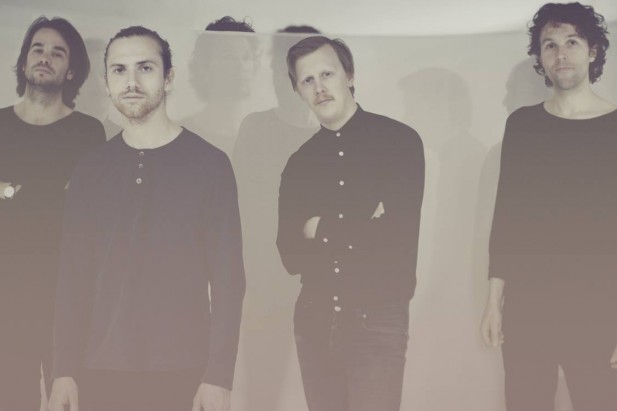 Picked as one of our Norwegian tips for 2014, Oslo's Atlanter are a supergroup of sorts, with each of their members, Jens Carelius, Arild Hammerø, Morten Kvam and Jonas Barsen Johnsen, cutting their teeth either as solo artists, or collaborating with a wide range of established acts before coming together. Their sound is an exciting blend of influences, taking you on a 60s psychedelia and krautrock fuelled trip from Oslo to Bamako via the Mississippi Delta and beyond.
Last year saw the release of their debut album Vidde on Jansen Plateproduksjon, which received widespread critical acclaim – you can check out what it sounds like below this interview, or listen to the whole thing on Spotify or WIMP.
Atlanter perform as a part of this month's Ja Ja Ja club night on the 13th February at The Lexington, so we thought we'd catch up with them to find out more about them ahead of the show, and about what we might be able to expect from their performance.
Spotlight Interview: Atlanter
For those that haven't met you yet, could you please introduce yourself – who are you, where are you from, and how would you describe what you do?
Atlanter is a four-piece band with experienced musicians and artists. Without any planning, the four of us really had a good musical chemistry, and being past our twenties (except for Jonas, our drummer), we thought we were finished with the rock n roll dream, doing instrumental music, singer/songwriter albums etc…. Suddenly we were jamming and laughing our heads off, AND making a record that really hit it off in Norway. Atlanter is the reincarnation of our young rock 'n' roll dreams in a more precise and mature packaging… We know what we don't like, and we know how much work it takes to really get things to work.
Last year saw the release of your album Vidde – can you tell us any stories from when you made the album? What sort of songwriting and recording process do you have?
Me and Jens went to Geilo (in the mountains of Norway) and wrote a lot of songs. We brought only acoustic guitars, except for the electric fretless guitar I always use with Atlanter. Suddenly our music did not become a Bert Jansch-folky thing as we had planned, but something completely different and electric. And before he had heard anything of what we made, label man and music entrepreneur Erik Jansen really liked the idea! So he wanted us to make an album before we really knew what we were doing. We got quite bored with playing only the acoustic guitars, so Morten and Jonas joined us, and suddenly a lot of groovy Africa-ish stuff kept coming up. And finally all the Zeppelin, Pink Floyd, Queen and Cream that we had been hiding up our sleeves for years had an creative outlet.
The recording process was really inspiring, with producer and Norway's leading problem solver Øyvind Røsrud Gundersen doing lots of creative stuff together with us. That guy is really a big energy generator! And there was a blender there, so we fueled up on energy with super foods, fruit and almond milk. Some of the tracks are really wheat grass sounding.
What were your highlights of 2013? Were there any particular live shows that stood out as being especially memorable?
Everyone in the band has been really happy with all the positive attention and the reviews we have received in 2013. It's been such a fantastic year. And is so inspiring to be a part of this new creative wave of music in Norway, there is so much going on! I even like to listen to a lot of music I don't really care too much about, because there is a lot of good energy in what's coming out now. Norway is London '68, ha ha…
Playing the big festivals in Norway was great, and getting an invite to Texas South by Southwest. Playing in Trondheim (a city in Norway) just before Christmas was really fantastic, it was such a great vibe in the audience. Some gigs are just perfect, where we get a lot of communication with our audience with doing our songs and jamming. We really like it when people that might never have really known anything about improvisation can participate in our extended play with what a song can be.
Your influences are incredibly diverse – can you tell us about some of the key artists and albums that influenced Atlanter's sound?
Me and Jens were really into the new Dr. John album when we went off to write new material. So there is the New Orleans simplicity kind of inspiration, combined with some progressive and symphonic elements.
For me, I can really feel that a lot of the melodic guitar playing I listened to as a kid has gotten an outlet in this band, I think about Jimmy Page, Brian May, Steve Howe, David Gilmour… Lots of fun!
Jens has listened to a lot of film music and krautrock, so he is into long evolving structures, where we kind of play a lot but it's still simplistic. I love the different perspectives and tastes in the band.
Some of band members come from a very improvisational background – is that method of making music one the band also explores? Are there some epic 4 hour jam sessions lurking on a hard-drive somewhere?
We recently bought a small village in China, just to be able to have enough space for our hard drives. Everything on Vidde has been jammed and tweaked in the rehearsal room for hours. And all of the songs we play end up different every live show. It's the only way to write in the band, since everything has to fit perfectly for every member. There has to be a personal expression for every musician. We have all done stuff with other musicians, but Atlanter is never supposed to sound like anyone is just playing with us, it has got to be Atlanter-playing. Everybody has got to be 100% into it. Me and Jens write the lyrics, and most often we got melodies and chords, but it's not Atlanter until Morten changes everything around and Jonas puts in a rhythmic context that makes the idea into a real song. The village in China we just bought is called 'Kill your Singer/Songwriter Darlings', by the way.
You're working on a new record at the moment with Erlend Mokkelbust – can you tell us more about it?
Jens met him in LA, and they started going to record stores to exchange musical preferences. Well, actually that is probably what they posted on Instagram while they were drunk and high in a hammock outside a recording studio or something, ha ha! And I think it just came up some time after that trip, that maybe Erlend could produce our next record. I really like him, and since he is a Queen fan, you can't go wrong! We are still just trying out different things, but we hope to continue with the thread that is started on Vidde, and try to crystallize the elements that we feel is most important for us on that record. Erlend likes to be very precise about what the songs are about, and that's really hard for us, nailing a song like that. We tend to keep things organic and a bit floaty, but listen to Erlend's band Monte'e, and you'll know that there will be a LOT of killed darlings everywhere, it will be a carnage in the studio working with him. Looking forward to it! We can just call the studio "the Jam Abattoir" already.
Will your perfomance at SXSW later this year be your first time performing as Atlanter in America? Do you enjoy the experience of city festivals compared with traditional open-air sets or club shows?
Yes, it will be the first time in America! We will do a few shows before SXSW, in the New York area, just to get into the Transatlantic Zone. We are really excited!
I think we are most comfortable with small clubs actually (for now), since the direct interaction with the audience can easier facilitate improvisation and play. But big festivals are really exciting because they take us out of the comfort zone, we have to be more precise and succinct. There it's more about the songs themselves, not the playing in the sense we are used to. But I think all our jamming makes us prepared to handle sudden unexpected turns in a concert. You know, if a guitar string snaps when we play Wembley or something (that's where the Ja Ja Ja venue is right?), we can just jam a bit instead of getting into a panic.
What can we expect from the Atlanter live experience at your show for Ja Ja Ja later this month?
I really hope we can try out some new songs there… But wait a minute, this is our first London gig, of course we will play Vidde material for you. Expect charming English with Norwegian accents and music made with fire and stone, ha ha! It goes without saying that we will have a raven perched on each shoulder while we play, so we can have a clear channel back to our Nordic roots when we perform abroad.
Do you have any good new music tips to share with us?
I really like Truls and Nico & Winz, when I want to listen to positive inspiring pop music. Hanne Kolstø is a highly vibrant artist I would really like people to check out. 'Birds' by Marius Neset for those interested in crazy jazz. Other instrumental artists like Daniel Herskedal and Hayden Powell is also great.
And finally, what does the rest of the year hold for you?
Oh, it has only just started! We are nominated for the Nordic Music Price, going to London in February, going to the USA in March, touring Europe in April, making a new record… And this is just the Atlanter bit! For me, this is the ultimate superfood, chinese-herb-year. I have to keep up with all that is going on, so high energy food will be one of the foundations of this years work. 2014, oh yeah!