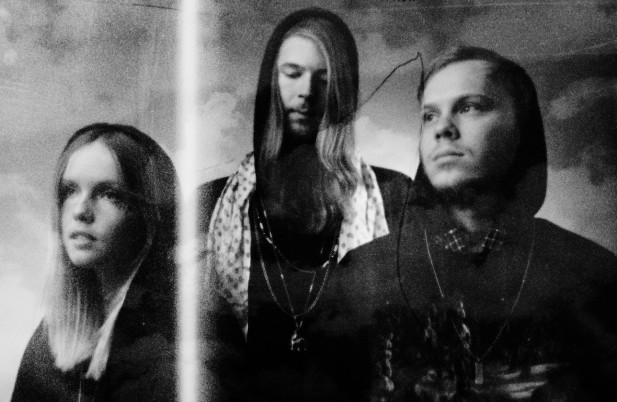 We're just days away from the first ever Ja Ja Ja Festival now – an event where 18 of our favourite acts from the Nordic regions will take to the iconic stage of Camden's Roundhouse for a two day spectacle of Nordic sounds, sights and flavours! Ahead of the festival, we're getting to know the artists set to play a bit better, and today, we catch up with Postiljonen – a trio hailing from Sweden and Norway – to hear how their year has been, and what's in store for their Ja Ja Ja performance.
Tickets and the full programme for the Ja Ja Ja Festival are available right here!
Spotlight Interview: Postiljonen
For those that haven't met you yet, could you please introduce yourselves – who are you, where are you from, and how would you describe what you do?
We are from Leksand, Stockholm and Bergen. We met two years ago in Stockholm and became three-piece with different music genre backgrounds but with the same view of making music. Since then we haven't been apart!
You've had a really busy year, touring all over the place and releasing Skyer – what would you say have been your highlights of 2013?
It has just been great to meet and get to know a lot of new and wonderful people. The China tour was also very special indeed.
What's the story behind the album – how long did it take you to make it, and did you find the experience to be as you expected it would be?
We didn't expect much, we met and started making music together from day one. After a year we found out how we sounded together and had songs that we felt was right together. They felt right in the order we put them on the album and the feelings we wanted every song to bring. The album grew as we worked without a plan.
Are you looking forward to returning to London, and playing at the Ja Ja Ja Festival?
YesYesYes, we're excited to play at Ja Ja Ja and the Roundhouse, it's such a nice venue. Then we're staying for a week, playing at Madame JoJo's a few days later and an acoustic set at an other club. Then in between just twirl around in town.
Norway's Einar Stray will also be paying at the festival, and in a recent interview, Einar told us that Mia was his childhood penpal! Mia, do you remember writing to Einar, and how did this penpal friendship come about in the first place?!
They became friends on MySpace. Then Mia got a letter in her mailbox and that's how that got started.
Who would be your dream penpal? (you can pick anyone, famous or not, past or present!)
Definitely Mio in the land of faraway.
What should we expect from your performance at the Ja Ja Ja Festival?
It's nice when people just going without that much expectations, just to have a good time in their dancing shoes. But there will be pretty lights so you can expect that and cute people on and off stage.
Can you tell us one secret about Postiljonen that no-one else knows yet?
Nothing we can say at the moment really, other than we're huge suckers for talent shows and chinese food, especially combined.
Do you have any good new music tips to share with us? 
1987, a really nice guy making really nice music.
And finally, what does the rest of the year hold for Postiljonen?
We're on tour playing our way from London to Copenhagen and trough a lot of cities in sweden until we reach our final destination in our hometown Stockholm at Christmas. There we will play the last show of the year at debaser strand before we start working on our new material in Mias cabin in the Norwegian mountains.