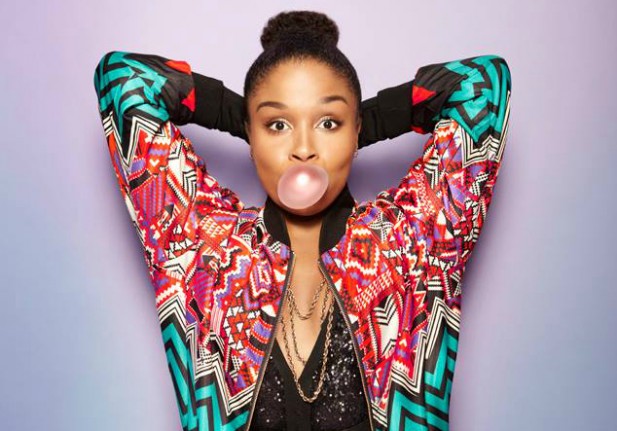 "Pop music from the heart" : Set to play at Ja Ja Ja's fourth birthday party at The Lexington, London on Thursday, we catch up with Denmark's Nabiha to find out about the exceptionally busy past 12 months, and to find out what she has in store for her debut Ja Ja Ja performance.
Spotlight Interview: Nabiha
For those that haven't met you yet, could you please introduce yourself – who are you, where are you from, and how would you describe what you do?
Of course, my name is Nabiha, my mother is from Mali and Denmark, and my father is from Gambia and Marocco. I'm a singer and songwriter, born and raised in the heart of Copenhagen, and I'm looking forward to performing for you all at the Ja Ja Ja club on the 28th.
You've had a really busy year, and have just got back from LA – can you tell us a little bit about what you were doing out there?
Yes, this year has been crazy and amazing! We just ended 6 months touring in Denmark, last month we performed at the Austin City Limits in Texas, and I just got back from gigging in Poland, and writing and recording new material in Los Angeles. I'm working with so many talented people, and I can't wait to show you guys what we're working on.
You've also had a very busy touring year – what have been the highlights, and which has been your favourite show ?
It's hard to pick out the highlights out of so many great experiences, but Austin, Texas was definitely one of my favorite shows this year! We also played at a grand opening for 35,000 athletes. They were in shape, jumping up and down, hands to the sky, throwing each other up in the air. They were crawling on top of each other doing hands stands and human pyramids. It was so crazy I almost forgot to sing, haha. I also performed at a private event at Lego Land, for "Families with Kids who have Cancer". It made a huge impact on me. Everyday worries suddenly became very small and insignificant. Such brave and beautiful kids. I think about them often.
Can you tell us about the track 'Mind The Gap'? What's the story behind it, and how did you make the song?
I've been working on the majority of my album in London. My management is situated here, and before moving to Los Angeles, my main producer Carl Ryden, also lived here. Every day I would ride the tube to and from the studio, and at every stop a voice would say "Mind The Gap". It got me thinking, it could be fun to write a light hearted song about myself, incorporating this line as a reference to the gap between my teeth. I took my idea to the the studio, and together with my talented colleagues we created what would later become the title song of the album.
Who are your biggest artistic influences and what do these people/works/places mean to you? 
Basically just life. Thoughts, dreams. Talks with friends, family, & all my travels. It give me ideas and inspiration to write lyrics. My songs are personal to me, but I try to write them so that my listeners can fit them in their own lives too. I've used music like that my whole life. I've got songs that make me happy, some that make me feel empowered, some that make me dance, calm, cry, etc. Music is about channeling feelings. Songwriting is often like therapy to me, and I use performing as an outlet.
Which artist would you say has been the most influential on the way you make music?
Madonna has always been a great idol of mine while growing up. Her strength, professionalism, work ethics, and "you can do whatever you set your mind to, but you gotta be prepared to work" That attitude has been inspiring to me always.
What should we expect from your performance at Ja Ja Ja?
Energy. Pop music from the heart. Expect dancing & good fun. We're gonna hit you with everything we've got.
Can you tell us one secret about Nabiha that no-one else knows yet?!
I've got a new single coming out in the beginning of next year. I'm super excited about it, and we just finished the music video this week. It's so hush hush, that I can't even tell you the title of the song. But you can stay updated on www.nabihamusic.com, or Instagram, Twitter & Facebook. (/nabihamusic)
Do you have any good new music tips to share with us? (Danish tips are particularly welcome!)
I love Danish music! You should check out Mø & Quadron from Denmark, they're blowing up all over, makes me very proud. Also, When Saints Go Machine, Choir of Young Believers, The Floor is Made of Lava & Oh Land! At this years Roskilde Festival I also saw Asgeir Trausti from Iceland and immediately bought the album. Check him out, it's probably what James Blake would sound like if he grew up surrounded by lava and blue lagoon hot springs.
This show is going to be Ja Ja Ja's fourth birthday party – can you remember your own fourth birthday party?!
Haha no, but I'm sure it was a blast! Our family parties always include a lot of dancing, food, music, laughing and more dancing. I'm sure that's where it all started for me. My love for music, brought by my love for my family.
And finally, what does the rest of the year hold for you?
I have a lot of shows coming up in November & December, some travels, more songwriting, xmas present-shopping & xmas at my house, and then I plan to go somewhere insanely hot for New Years, so I can come back in 2014 with even mote energy and inspiration, ready to take over!