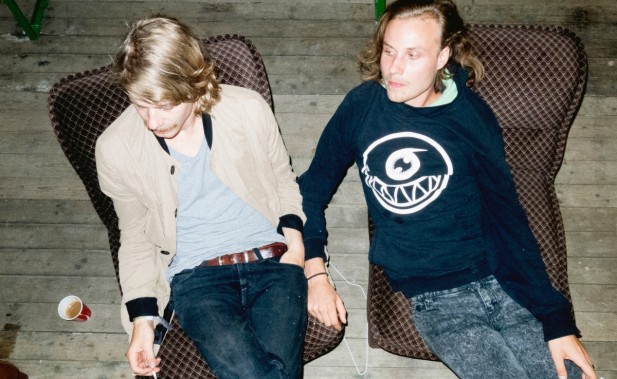 The first ever Ja Ja Ja Festival is JUST around the corner – an event where 18 of our favourite acts from the Nordic regions will take to the iconic stage of Camden's Roundhouse for a two day spectacle of Nordic sounds, sights and flavours! Ahead of the festival, we're getting to know the artists set to play a bit better, and today, we catch up with Denmark's Broke  to find out about the recording of their brand new album and what to expect from their debut Ja Ja Ja performance.
Tickets and the full programme for the Ja Ja Ja Festival are available right here!
Spotlight Interview: Broke
For those that haven't met you yet, could you please introduce yourselves – who are you, where are you from, and how would you describe what you do?
We are Simon and Mads, and together we are Broke. We come from Copenhagen, but Mads is currently living in Berlin. We are young dreamers, slightly melancholic and have a big need to express ourselves through music and art.
Can you tell us a little about what you've been up to over the past 12 months? What have been the highlights of the year – how was Roskilde?
The last 12 months has been a big roller coaster. We released our "Lifestyle Mixtape" for free and it was picked up by a lot music and fashion blogs all over the world. Then we toured for 3 months all over Europe, played some festivals this summer and been working on new tunes in our studio every time we was not on the road. We met a lot of fantastic people and had so many good experiences over the last 12 months. Roskilde was good. I think it's a big dream for every danish band to play there, because you grew up with the festival and watched so many great bands playing there.
We've noticed that you've been involved in a couple of collaborations lately – soundtracking a fashion show at Copenhagen Fashion Week, and releasing the excellent track 'Let The Youth Go Mad' with MØ – what do you think is the best thing about collaboration? Do you have any more lined up?
Well we love to collaborate with other great artists. But we only collaborate when we meet someone who shares the same energies or artistic visions like us. We start recording our debut album in Los Angeles next month and we will also have some collaborations on the new album, but we are not allowed to tell more about it now. We can only tell that the collaborations on the new album will be from someone who has been a big inspiration for us since we started Broke.
If you could work or collaborate with anyone, from any line of work and from any time in history, who would you choose?
It could be cool to work with Mozart.
Which are the records that bring the pair of you together?
We are really committed to find new music the whole time and we always get inspired by what is new. Currently we are listening a lot to Russian Witch-House, EDM, Noise music and hip-hop.
Where would you recommend that music and arts fan head to, if they only have one day to spend in and explore Copenhagen?
Christiania. This is the only anti capitalistic and free place we have in Denmark. And you can always find a good concert there. Don't think the art scene in Copenhagen is that interesting at the moment compared to other cities in Europe, but sometimes some good young artists pops up.
Are you looking forward to returning to London and playing the Ja Ja Ja Festival? What should we expect from your performance there?
Yes, we are really looking forward. We love London and it's great to be part of such a good line-up. You can expect that our concert will be loud. Sometimes the music will be raving and sometimes it will be transcendental.
Can you tell us one secret about Broke that no-one else knows yet?
It's dishonest to have secrets. We believe in the truth, even if the truth is ugly or nasty.
Do you have any good new music tips to share with us? 
At the moment there are some cool girls breaking into the Danish music scene. Mendoza, Gold Lip and Devon Seven are all really new, really cool and really interesting.
And finally, what does the rest of the year hold for Broke?
Right after our show at the JaJaJa Festival we will fly to L.A. to produce and record what will become our debut album. Then we have some shows in Budapest, Amsterdam, Vienna, Brussels and some shows in Denmark. But the focus point for us is to finish our album before Christmas.