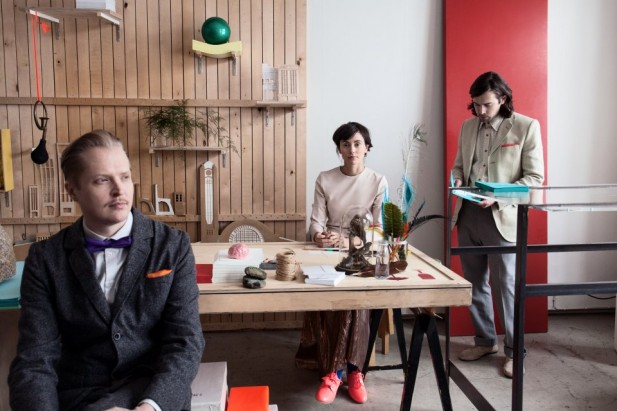 The Ja Ja Ja Festival is an event where 18 of our favourite acts from the Nordic regions will take to the iconic stage of Camden's Roundhouse – a two day spectacle of Nordic sounds, sights and flavours – and Finland's brilliant Husky Rescue are set to play the main stage on Friday night, ahead of Icelander's múm and Denmark's Mew.
Ahead of the festival, we're getting to know the artists set to play a bit better, so today we catch up with Husky Rescue to find out about their influences, their most inspirational albums and their favourite tracks.
Tickets and the full programme for the Ja Ja Ja Festival are available right here!
Influences : Husky Rescue
Who or what are your biggest artistic influences and what do these people/works/places mean to you? 
Life. All the small things that surround us.
Which artist would you say has been the most influential on the way you all make music?
David Lynch.
And which artist's work ethic/method do you most admire?
Roy Andersson
David Lynch
Was there a song/album that first inspired you to become musicians?
Camille Saint-Saens 'Carnival of Animals'
Edward Grieg 'Peer Gynt'
The Beatles 'White Album'
Vangelis 'Blade Runner'
If you could create the perfect idol, who would it be and what would they be like? 
Nosaj Thing time travelled to the 30's performing with Django Reinhardt with visuals provided by Michel Gondry.
Which 5 albums would you pick as the most inspirational? Are there any records that you couldn't live without?
Tim Hecker 'Harmony In Ultraviolet'
Sigur Rós 'Ágætis byrjun'
Devendra Banhardt 'Mala'
James Blake
Radiohead 'The King Of Limbs'
But we definitely can live without these.
And which 5 tracks?
Neil Young 'Heart Of Gold'
Bon Iver 'Re:Stacks'
Love Joys 'Long Lost Lover'
Guns n' Roses 'Estranged' (Antony)
Dungen 'Festival'
We definitely can live without these too.
What would be one thing that you'd like people to take away from your music – what's the one thing that you hope they understand in it?
Nothing should be taken away, it's good as it is. 🙂