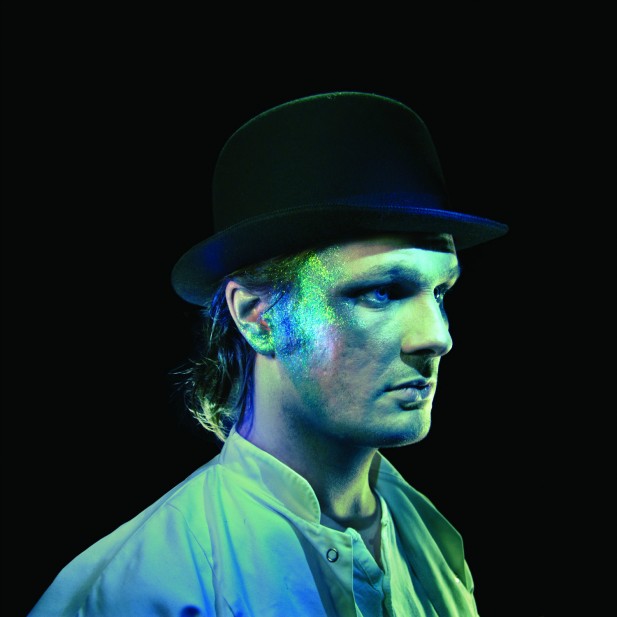 The first ever Ja Ja Ja Festival is now just around the corner – an event where 18 of our favourite acts from the Nordic regions will take to the iconic stage of Camden's Roundhouse for a two day spectacle of Nordic sounds, sights and flavours! Ahead of the festival, we're getting to know the artists set to play a bit better, and today, we catch up with Faroese artist Sakaris to find out about his musical upbringing and what to expect from his debut Ja Ja Ja performance.
Tickets and the full programme for the Ja Ja Ja Festival are available right here!
Spotlight Interview: Sakaris
For those that haven't met you yet, could you please introduce yourself – who are you, where are you from, and how would you describe what you do?
My name is Sakaris Emil Joensen and I'm the guy behind the electro act SAKARIS. I'm a musician and producer from the Faroe Islands, a small country consisting of ca. 50.000 people located in the middle of the ocean between Norway and Iceland. I use my real first name as my artist name because I figured it sounds kind of strange and artsy to foreign ears, even if it's a fairly common name here in the Faroe Islands.
My music can be described as bright and shiny electro pop music, with strong influences from the overblown and dramatic 80s pop scene and the melodic and nostalgic video game soundtracks of past. It is very synth based, very melodic and very tightly produced.
What first inspired you to make music? Can you remember the first song you ever wrote?
I'm very lucky to have been raised up in a musical home. My father – who is a renowned folk singer here in the Faroes – used to buy all sorts of gear, which I would then play around with. Guitars and keyboards were all over the place, so I had very good conditions to start learning to play music ('Nothing Else Matters' being the first guitar song I learned). But what really got me going, was a digital multitrack recorder my father bought. I loved playing around with that, making complete tracks with drums, bass guitars and keyboards and everything.
I think I wrote my first song at 7 years old, when my mother was pregnant with my little sister. I was very excited and wrote a simple song called "Diddan fer at koma" ("The baby is on it's way"). In the first verse I sing about the baby being almost here and how fun and great it's going to be; in the second verse I sing about how the baby will be passing away in the distant future and how sad that's going to be. Quite deep and macabre.
What is your ultimate goal for the project?
SAKARIS is my personal project. I play in different bands and have a couple of projects going on, but SAKARIS is going to be my always-ongoing project (you know, since it's my name and all). Basically I just want to make good and exciting pop music and have people enjoy the music. I'm going to keep on recording and playing and try to reach as many people as possible.
You're from Hoyvik but are now based in Denmark – can you recommend one artist from each of these places that we should check out?
Hooo boy, there's a ton of good music here in in the Faroe Islands. I could choose so many, but for now I will point out Greta Svabo Bech. She's the one who does the vocals on my track 'I Have Beautiful Eyes'. She's been around performing with some pretty big names, like Deadmau5, Bloody Beetroots, and just recently wrote a song for Cher. She's and incredibly gifted songwriter and singer, and she's got her own project going on right now. Definitely worth a listen.
As for Denmark, I would probably recommend When Saints Go Machine – a very exciting and well produced electronic band with real international appeal.
There are a lot of video game references in your music. Could you tell us a bit about the relationship between your sounds, these references and where this idea came from?
Like many people of my generation, I basically grew up in front of the TV screen playing my NES, SNES, Megadrive or what have you. So naturally the primitive sounds and repetitive simple melodies became a huge part of my childhood, and have only grown in influence since then. Somehow these 8bit and 16bit sounds represent some very deep emotions in me, which I then find natural to use in my own productions. I almost always throw in some 8bit sounds without even realising it. But I try to mix them with a more contemporary and "mainstream" pop sensibility; you know, just so I don't get completely lost in my own nostalgia.
What's the best video game soundtrack, and why?!
There's a ton of amazing VGM, but I will probably go the safe route and pick the Final Fantasy soundtracks by Nobuo Uematsu as my personal favourites (they're held in very high regard in the video game community). Or more precisely FF VII. Words cannot explain how deeply his music has influenced me. I think maybe that it's got something to do with the fact, that the MIDI sounds are so primitive and unrealistic, that it leaves more up to the actual melody instead of production and sound. It's just very pure and powerful melody. If I show it to other people, it might sound laughably primitive, but to me it's very special.
How did you write and record I Have Beautiful Eyes?
I am very much a modern home-studio producer. I Have Beautiful Eyes was made wherever I was living at the time over a timespan of 2-3 years, 90% by myself. Basically it was just me clicking away at my Macbook, jamming on my synths, using Ableton Live and putting together idea after idea. All the ideas are instrumental to begin with, only adding vocals at the last point. I then reached a point where I had a library of ideas that could make up a whole album. So I decided to clean the closet and finish up these ideas, write lyrics and melodies, and then record the vocals. It was not a focused production-span, but more of a loose back-and-forth thing, which I finally tied together.
What can we expect from a Sakaris live performance?
For the live performance, I bring along 3 other musicians and we jam on synths, drum pads, keytars and laptops. It's quite a party, with very varied music. It's dancey, dramatic, improvised and a lot of fun.
Are you looking forward to playing the Ja Ja Ja festival?
I'm very much looking forward to it. I have heard so much good about the festival and I am very happy to get the opportunity to perform in Camden. I've never performed in the UK before, so it's gonna be awesome.
Can you tell us one secret about Sakaris that no-one else knows yet?
Probably my most popular song 'Brace Myself' almost didn't make it to the album. It was totally unfinished when I brought the album for mixing, with no vocals or sax solo or anything. The mixer (Janus Rasmussen) encouraged me to just write something and record it, so I did. I was very unsure about the whole thing, but it turned out people liked it a lot. Phew!