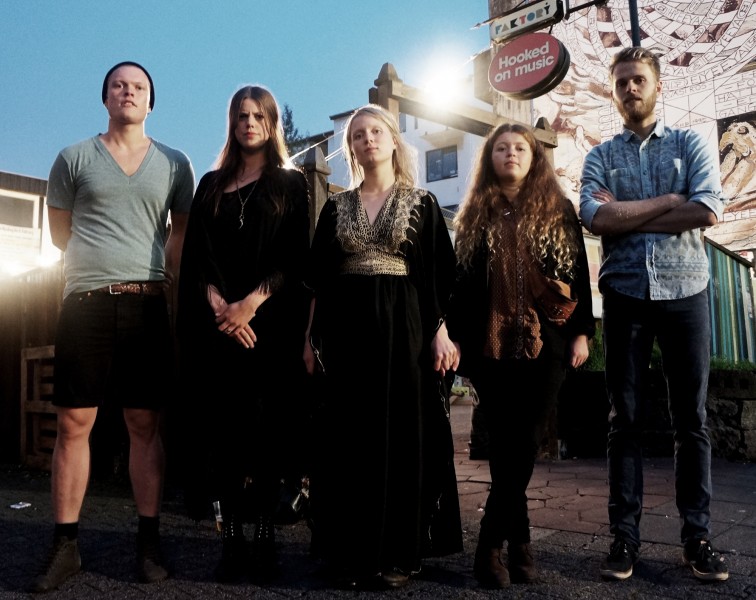 The first ever Ja Ja Ja Festival is JUST around the corner – an event where 18 of our favourite acts from the Nordic regions will take to the iconic stage of Camden's Roundhouse for a two day spectacle of Nordic sounds, sights and flavours! Ahead of the festival, we're getting to know the artists set to play a bit better, and today, we catch up with Iceland's MAMMÚT – who are currently taking Iceland Airwaves Festival by storm –  to find out about their brand new album and what to expect from their debut Ja Ja Ja performance.
Tickets and the full programme for the Ja Ja Ja Festival are available right here!
Spotlight Interview: Mammút
For those that haven't met Mammút yet, could you please introduce yourselves – who are you, and how would you describe what you do?
We are MAMMÚT, a band from Iceland. We make music.
Tell us about your third album. Has it been a long time in the making? Are there new directions, themes, sounds creeping out?
It's been 5 years since our last album but the new one hasn't been that long in the making. We started writing new songs around 3 years ago and recorded the basis of the album in the summer of 2012. Then we did a few very intense weeks in the studio and finished it in the beginning of October 2013. It's pretty hard to analyze your own music but I guess the new one is a bit heavier and darker than the last one, even though it's very subtle and sweet at times.
Mammút is quite a long-running project, soon to reach its tenth birthday. How does it feel to be both young in age and yet a veteran band on the scene?
I don't think we have any special feeling about it. This is the way things have been for us and we don't know anything different. It might be rare that bands who start at such young age stay together for such a long time but for us it's perfectly normal.
Do you feel like there's a bond and a creative connection that's kept things flowing over the band's lifespan?
Absolutely. We all have very different personal tastes in music and that makes it fun to write songs together. A very big part of why we're still doing this is also because we're all very good friends.
Are there any clear highlights in terms of most memorable moments or shows? And on the flip side of that coin, any moments of difficulty that you've come through?
We once played a show in a small town in the Czech Republic. When we showed up it was a small and not-so-nice-looking venue and we thought nobody would come. By the time we played the place was packed with people of all ages, from kids to very old people, and all of them jumping up and down, singing our songs, even though they didn't understand them at all. That was amazing.
Then we once played a show at Iceland Airwaves 2007. We were the last band playing and the schedule had been delayed a lot. Most of the people had gone home except a few very drunk persons who were screaming and throwing stuff at us. It was a terrible moment but today we laugh at it.
There's been a lot of attention on Nordic music and culture these last couple of years. Do you see Iceland as having some cultural similarities and ties to the wider Nordic or Scandinavian scene?
To be honest I don't really know. A lot of people talk about Icelandic and Nordic music and culture being unique and different but when you're a part of it it's very hard to tell. I think I'll leave it up to others to decide.
People often remark on the amount of music coming out of Iceland, for a country with such a small population – it's an old question, but everyone has a different idea or theory on why that might be! What's your take?
I think it might be because of some kind of a snowball effect. At some point back in the day bands were formed and started doing good. That could have encouraged others to start bands as well and gradually more and more people have seen it as something fun and exciting to do. Today it's very common to be in a band and many people play in more than one.
It's also very easy to get to play at venues or bars in Iceland so for new bands it's not so difficult to play in public.
Big political and economic events sometimes rub off on the arts. I guess the story of the Best Party storming the Reykjavík council is well known, but how did you feel the younger artists and musicians responded to Iceland's recent currency crisis?
In times of crisis people seem to get more involved with arts and music so if anything I've seen an increase of bands and people doing interesting stuff. The currency crisis hasn't affected us much as a band. We've traveled a lot since then and we've had no trouble doing so.
Iceland Airwaves is a big event on the home calendar – are you looking forward to it this year? What does Airwaves mean to you?
Airwaves is always a lot of fun so yes, we're very much looking forward to it. It is THE Annual Festival of Iceland's music scene and everybody's running around playing gigs, talking to people and partying hard. You could call it the Christmas of Icelandic music.
Any fresh bands on the scene we should be looking out for, or some veterans who are in rich form?
The ones I'm most looking forward to see are Samaris and Ojba Rasta. They're both Icelandic and amazing bands.
I haven't really checked out the foreign bands who are coming and I think I'll keep it that way and just discover them at their gigs.
What's in the immediate future for Mammút?
Airwaves, Ja Ja Ja Festival and some more gigs to celebrate our album Komdu til mín svarta systir which was released a few days ago.