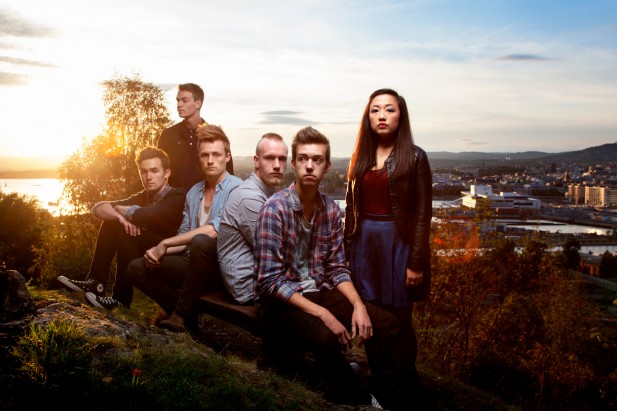 As the first ever Ja Ja Ja Festival edges ever nearer, we catch up with one of the bands set to star in the show – Norway's Kid Astray. Join us as we catch up with the Oslo six-piece to find out what they have in store for their festival performance, and why it's not a good idea to try to sneak hunting knives onto planes.
Tickets and the full programme for the Ja Ja Ja Festival are available right here.
Spotlight Interview: Kid Astray
For those that haven't met you yet, could you please introduce yourselves – who are you, where are you from, and how would you describe what you do?
Hi! We're a six-piece band from Norway, growing into our twenties. We deliver catchy electronic indie pop to people who like, well… catchy electronic indie pop.
You seem to have had a pretty busy summer this year! What's been the highlight?
Yes, it's been quite hectic as we've been playing at lots of different festivals all over the country. This is the first summer holiday we've actually spent working together, and it has been wondrous. We're blessed with a beautiful county, and travelling around in it has been grand.
What was the most memorable performance of the year for you, and which was the weirdest?
The peak of 2013 so far has definitely been playing at Slottsfjell, one of the biggest and most prestigious festivals in Norway. We shared stage with great artists and bands like Dan Croll, Crystal Fighters, Twenty One Pilots and many others. If you've ever wondered how it feels to stand onstage in front of a crowd of over 5000 people, it's super thrilling.
Concerning weird gigs, we were once invited to play at a tiny festival in a fjord village in western Norway called Fres. We did not quite know what to expect, this being far away from practically anything. There were neither hotels nor stores nearby, so at arrival we were escorted to a house in a valley which we shared with a huge goat (with enormous testicles). This, however, turned out to be one of our most stunning experiences. The surrounding nature was beautiful, the people were super cool, and the venue was outstanding and unique.
Can you tell us a bit more about how you wrote and recorded the Easily Led Astray EP?
At the time we were still attending school, so we had to apply for two weeks off during which the entire EP was recorded in Benjamin's basement. We had no money, so we did everything ourselves. For twelve hours a day we sat in the basement, cooked our own (cheap) food and drank a dozen cups of coffee every day. Benjamin produced the tracks, and we held a contest in which people could send in their idea for cover art. Jolly good!
What's the biggest lesson that Kid Astray's learnt so far? 
If there's one thing that being a part of Kid Astray has taught us, it's that hard work eventually will pay off. It's all about aiming high, wanting it badly and having no plan B.
Also, do not try to bring hunting knifes on airplanes. Airport-security gets all jumpy about it.
Are you looking forward to returning to London for the Ja Ja Ja Festival? Who else on the bill are you excited about seeing?
Yes Yes Yes! (Which happens to translate into Ja Ja Ja in Norwegian). We're excited to see Mew and Einar Stray, end we're especially stoked to be playing in London again!
How can audiences expect to leave your set feeling?
Like they wanna dance, fuck and cry at the same time.
Can you tell us one secret about Kid Astray that no-one else knows yet?
We're currently recording a Christmas album, with as many different genres as we possibly can fit into it. It all sounds wondrously bad, and it will never ever be released!
Do you have any amazing new music tips that you'd like to share with us? (Norwegian tips are especially welcome!)
Ukulele låter veldig bra sammen med synthbass!
And finally, do you have any other big plans for winter and the rest of 2013?
The plan is writing a couple of monster hits for our upcoming album, and we have a couple of gigs scheduled as well. So far we're doing good, so stay tuned!