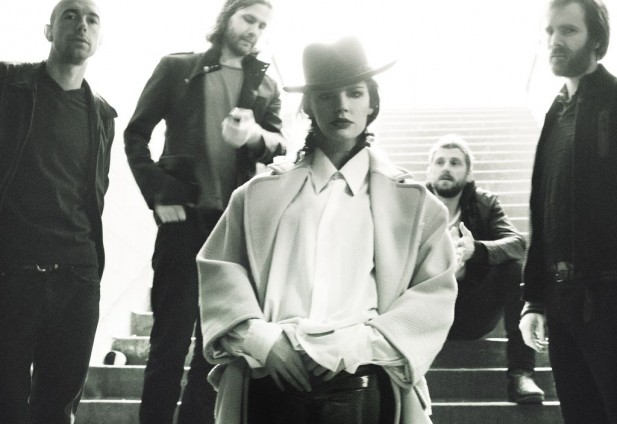 Physically located in Stockholm, but spiritually based on Saturn, Sweden's Here Is Your Temple are visiting planet Earth to present their debut EP, So High at the first ever Ja Ja Ja Festival – set to take place on the 08/09 November at the Roundhouse in London.
Check out this interview with the band that in a few words tells you all there is to know about this spacey and moody five-piece pop band.
Spotlight Interview : Here is Your Temple 
For those that haven't met you guys yet, could you please introduce yourselves – who are you, where are you from, and how would you describe what you do?
We grew up on the countryside. We all know how to milk a cow. We enjoy the small things in life. Right now we're based in a bunker in Stockholm.
What is your temple?
The space between saturn and its rings.
Your Twitter profile quotes Jean-Luc Godard ("All you need to make a movie is a girl and a gun"), does this motto apply to music too?
No, it's harder to paint a picture without the visuals.
You released your debut EP, So High, earlier this year, where and how did you record it?
At our producers spaceship-like studio, through a portal from the 60's, constructed by a specialized Mormon sect, hot & late all through the night…
Your music combines a folk mood with dance beats and layers of sounds. How do you build your songs?
We try to look at it as fractal art, where tiny elements connect into a greater picture.
Can you tell us one secret about Here Is Your Temple that no-one else knows yet?
We are the singer in Ghost.
What should we expect from your performance at Ja Ja Ja?
The Saturn return in the 9th house.
What do you recall of your first show together?
It's a bit of a blur, but there's some memories of someone stealing a lamp-post from stage. The regular mayhem, confusion and adrenaline…
Which is the band that brings the five of you together?
Hawkwind.
Finally, when can we hear a full-length album from Here Is Your Temple?
We kick off the new year with a single, and then a full album. Probably the last Great achievement in Western culture before it all collapses…