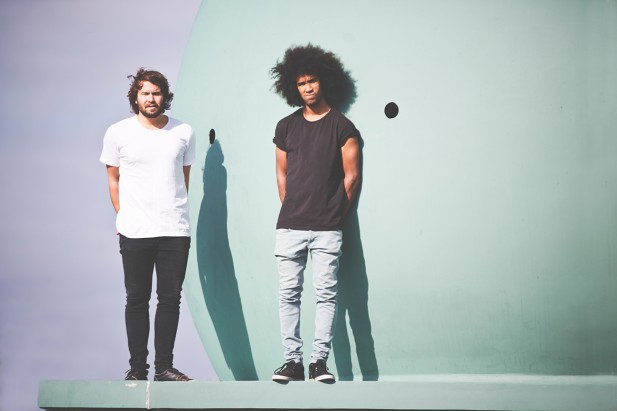 Norway's Eye Emma Jedi are getting us warmed up for their sure-to-be-electric live performance at the next Ja Ja Ja club night by unveiling a brand new track taken from their forthcoming EP!
The track is entitled '88, as is the EP (set for release this Autumn), and is described by the band's Alexander Pavelich and Andrew Murray as "a nostalgia-trip/homage to a simpler time." It's a song which is packed full of excellent hooks, irresistible bass-lines and lyrics that make us wish we were kids again, and we can't wait to hear it live next week. In the meantime you can hear the UK premiere of the track below, and carry on scrolling down to read an exclusive interview with the band!
Eye Emma Jedi will perform at the Ja Ja Ja club night on Thursday 26th September at The Lexington in London. 
Tickets and more information about the event are available right here.
Interview: Eye Emma Jedi
Ja Ja Ja: For those that haven't met you guys yet, could you please introduce yourselves – who are you, where are you from, and how would you describe what you do?
Eye Emma Jedi is a guitar band based in Oslo, Norway, founded by Alexander Pavelich & Andrew Murray in Liverpool, November 2010. Both grew up on opposite sides of Norway, but we both share English as our native tongue through American and Scottish parents. We play fjord-spawned, galactic rock mixed with a pop mentality.
Ja Ja Ja: The line-up's pretty different nowadays to when we first heard of you, so what shape does Eye Emma Jedi take now?
We're a five-piece live. After last summer when Joe Wills and Dan Croll had to leave the band due to other commitments, we decided to go back to the original duo-format and write our debut album. Our drummer Andreas Westhagen has been with us the whole time, but in April we got two new additions to the Jedi family – Drew Snyder from San Diego on bass and Sjur Vonen from the Arctic Circle on keys, samples and guitars.
It's sounding BIG.
Ja Ja Ja: We're very excited to premiere your new track '88, taken from and EP of the same name which is due out next month – what's in store on the EP and what's the title referring to?
The single in particular is a nostalgia-trip/homage to a simpler time. It's about blowing the dust out of NES-cartridges, blasting MJ on cassette and ringing your mate's doorbell to hang out face to face. Kids nowadays are growing ever more distant and anti-social despite "social" media. Also, Andreas, Andrew and Alex were born in '88. You can expect big guitar tones and riffs, dreamy jams and lots of hooks on the new EP.
Ja Ja Ja: We know that you headed to Spain to spend 100 days recording your debut album last year – has this new EP come from those sessions too?
Yeah, it all came from a great sounding house that our buddy Paco built many years ago. Every melody, sound and tone was created in the hills of Monda, Andalucia. It's baffling what isolation can do to you in a creative sense, putting things into perspective and make you remember what really matters. '88 would never have come out if it wasn't for Monda. It feels natural to release an EP first with a selection of tracks that represent various aspects of the album.
Ja Ja Ja: We've been completely obsessed with 'Places' ever since we first heard it earlier this year – can you tell us a little bit about where that track came from, and where it's taken you since?
Glad you like it! Releasing 'Places' allowed us to introduce people to a new side of our music. It's more creative, more musical and we've taken bigger risks with the twists and turns in the tunes – without loosing a pop sensibility… Pop within rock is the core. With our first 4 singles we moved into different directions with each track, but now we've settled on something we're really excited about. 'Places' is about needing that extra push from someone else to get your shit together… Escaping to Monda became that push for us.
Ja Ja Ja: You're hailed as an exceptional live band, so what should we expect from your performance at Ja Ja Ja?
The most fun we can ever have is being on stage together, and that's something people notice at every show. Going to a gig should always mean having a good time and putting a smile on your face. Come see Eye Emma Jedi and you'll get a tight, loud, sweaty rock show. And if a string breaks (like it did after our first song at The Great Escape), Sjur is ready to whack some bossa nova on keys to keep people entertained! Also, we've had proper, regular rehearsals for the first time ever.
Ja Ja Ja: What's been your favourite EEJ show so far?
That has to be our first show ever, which was in Alex's hometown in Norway at Malakoff Rockfestival. There were 2000 locals in the audience going crazy… Could hardly believe it was our debut show! Also 30 of Andrew's friends had driven 10 hours from Oslo to surprise him at the gig. There's a clip on YouTube, go check it out.
Ja Ja Ja: Can you tell us one secret about Eye Emma Jedi that no-one else knows yet?
Our first track, which we've never played live nor released, 'Has The City Gone Mad', was a tribute to Liverpool nightlife at its absolute worst. Our manager still thinks it's the best song we've ever written, but we get this unsettling, odd feeling every time we listen to it…
Ja Ja Ja: Who are you listening to at the minute, and who would you recommend that we check out?
We're especially digging the Norwegian electronic scene with André Bratten's new album and older cool cats such as Lindstrøm & Todd Terje. Also hooked on Washed Out's dreamy new album, reminiscing to Little Dragon, Kendrick Lamar and the sweet jams on Unknown Mortal Orchestra's II.
Ja Ja Ja: And finally, what does the rest of the year have in store for Eye Emma Jedi?
We've got a norwegian tour in October after we play Ja Ja Ja and Reeperbahn Festival in Hamburg. We're also working on some tour options for the end of 2013 and the first few months of 2014. The '88 EP will also be released on 500 limited edition 12″ see-through red vinyl!