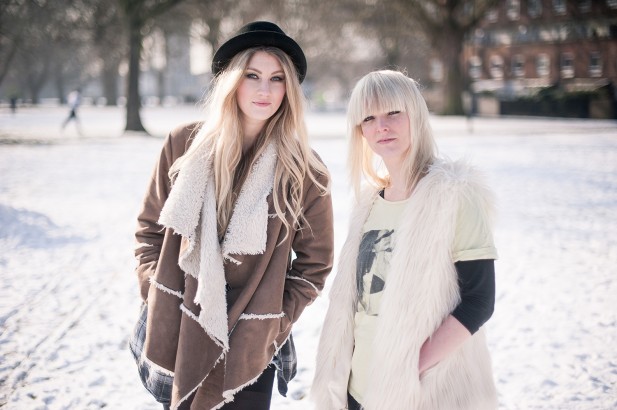 Ja Ja Ja's expert in-house DJs Project Fresh Socks return today to offer up a brand new mixtape full of irresistible new Nordic noises for your aural pleasure.
PFS – also known as Linn and Pia – are two Norwegian lasses who, at each Ja Ja Ja club night, present masterfully mixed DJ sets that showcase the best new music that the Nordic region has on offer. They'll be joining us at The Lexington in London on the 26th September, when the Ja Ja Ja club night will make its return following a sun filled summer break. So when you're at the show, make sure to pay particular attention to the heavenly sounds emanating around The Lexington's live room in between sets from Eye Emma Jedi, Satellite Stories and Samaris, and make sure to check out the Ja Ja Ja site straight afterwards for a rundown of PFS's JJJ live set.
Tickets and more information about the Ja Ja Ja club night are available here, and if you like what you hear, make sure to check out Project Fresh Socks' previous mixtapes by clicking right here!
Project Fresh Socks – Ja Ja Ja Mixtape #3
This edition of "PFS's-mixtape-round-three" represents not just the tunes we are listening to (over and over and over again) this month, but also hosts a little representation of some of Oslo's (and Norway's, as a matter of fact) finest club land veterans. These guys can be (separately) described as the spirit and life behind some of the the best and most iconic club nights in Norway such as Sunkissed and Full Pupp but they also have an amazing ear for what is amazing music. Pay extra attention to the tunes from Prins Thomas, Nils Noa and Vinny Villbass in this mixtape and you´ll understand exactely where we´re coming from.

Other absolute addictions this month are Kohib and Sayem. Kohib – aka Øyvind Sjøvoll – is from one of the most beautiful (and smallest) cites up north in Norway called Sortland and is just straight out loveable. He is also part of one of the coolest record labels EVER, Beatservice (who's worked with Skatebård, Mental Overdrive and Todd Terje to mention a few). Mixing funk and jazz with electronica/house elements, he's had us hooked since we discovered his music a year ago. The tune 'One Hundred Of Them' ft. Mari Boine (also on Beatservice) is an exotic Scandinavian blend of electro beats. It's a little bit weird, but exactly how we like it.

SEYEM is a side project for Tailors Music, a music production company that makes fine, detailed synth-based music for rap, R'n'B, pop and electronica. The ingredients were few glasses of wine and whisky, some music equipment, talent and the wish to communicate their ups and downs with the opposite sex(!). Just like that, and their new Norwegian R'n'B songs were born in a cabin in the south of Norway. Their recent single 'Mer Mer Mer' (More More More) is highly addictive and definitely making us want more!

And finally, we end this mixtape with one of the most powerful tunes ever to have existed on planet Earth. No words can justify the gloriousness of this track. Listen and love. OAR 003-B, we love you.