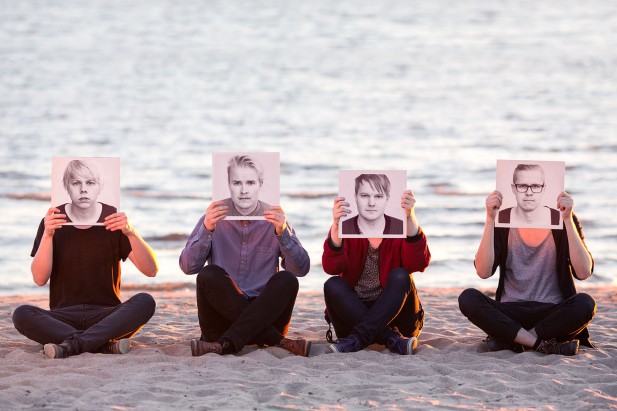 Finland's Satellite Stories unveil another blissful new track from their forthcoming second album Pine Trails, due out on November 1st via XYZ Berlin.
'Lights Go Low' is an irresistible piece of indie pop, telling nostalgia-filled stories of youth and summer nights and reminding us it's not winter yet. They'll play the Ja Ja Ja club night at The Lexington this Thursday and with their infectious energy, and we can't wait.
Find the track below, plus an exclusive interview by the band's frontman Esa Mankinen – check it out to see what they have to say about the upcoming album and their latest single 'Campfire'. They'll also let you into a little secret…
Satellite Stories will perform at the Ja Ja Ja club night on Thursday 26th September at The Lexington in London. 
Tickets and more information about the event are available right here.
Interview: Satellite Stories
Ja Ja Ja: For those that haven't met you guys yet, could you please introduce yourselves – who are you, where are you from, and how would you describe what you do?
Hello, We are Esa, (Vocals) Marko (Lead guitar) Jyri (Bass / Vocals) O-P (Drums) and together we are Satellite Stories from Oulu Finland, so far North none of you will have heard if it.
Ja Ja Ja: You released a brand new track 'Campfire' very recently – can you tell us a little more about that track? Where did you write it and what's the story?
We put 'Campfire' out on Soundcloud and YouTube early just to give people a sound of what we are doing on the new album, it was actually written in the Swedish countryside last January, we got this secluded cottage in the snow-filled pine forest with only horses for neighbours, it came from that session. The track is about missed opportunities I guess, a look back to a past summer and a chance meeting of a girl that the guy could not get out of his head, and how that kind of situation can play with your mind. A dark story I guess.
Ja Ja Ja: Your new record Pine Trails will be released in November! Where and how did you record the album?
We always self record and self produce our own material, it is the only way to be in complete control of your work and to be truly happy with what you have done. It was written and recorded between Sweden and and our own studio in Oulu Finland. It was an amazing experience again, we work well together everyone has their own skills and it all comes together. Marko took the lead in a lot of the recording side of things, he demands we now call him "MARKO SPECTOR" 😉
Ja Ja Ja: Were there any major changes between making this album and recording your first one?
We have changed I guess, we were more experienced, we were a professional touring band and we grew on all our experiences we had in 2012 and 2013. We took more time and used better equipment and techniques – vocally it is a much better album, we spent a lot of time on the lyrics and the story in them.
Ja Ja Ja: What has the highlight of your year so far been?
So so many, we were sitting in Amsterdam recently and talking with our promoter there, he asked the same question and when we started to list the things we thought, "Shit what a year!" Headlining the second stage at Arenal Sound Festival in Spain has got to be up there. Actually really hard to narrow it down to one moment. 2013 has been so far amazing.
Ja Ja Ja: Can you tell us one secret about Satellite Stories that no-one else knows yet?
Marko "Spector" is a qualified librarian…
Ja Ja Ja: What should we expect from your performance at Ja Ja Ja?
New songs, lots of energy and some ropey "Finglish" (Finnish/English)
Ja Ja Ja: Who are you listening to at the minute, and who would you recommend that we check out?
Wave Racer from Australia is pretty cool. Cashmere Cat from Norway. Shinjin Hawke is really great, and Finnish would have to be a band called Stache also from Oulu, they are just releasing their first album.
Ja Ja Ja: Finally, what do you hope that the rest of the year will have in store for Satellite Stories?
We are just focusing on getting the album out, touring Finland and trying to find some time in the schedule to write new songs… Album three? Why not!