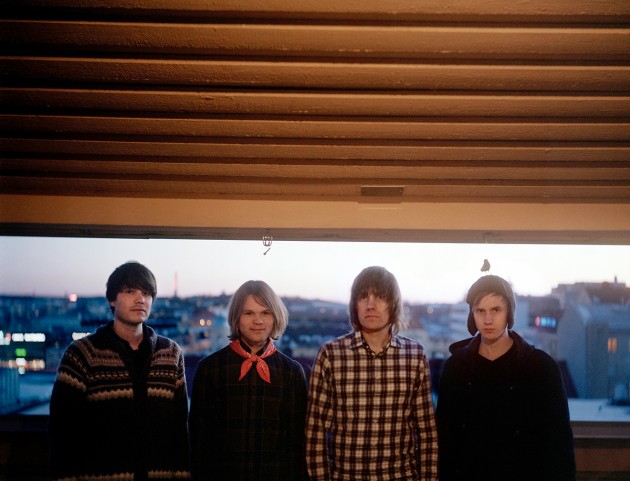 That The New Tigers deliver great indie pop was something we already knew when we first saw them preform at the Ja Ja Ja club night back in October. From the country that brew bands that have "been in the garages and basements for a long time", but who now rightfully sees stardom due to the rising interest in indie music, Finnish The New Tigers are getting ahead with their "guitar-driven, usually fuzzed-up, uptempo pop music".
Since last fall the band have been in studio recording their second album, due in autumn this year. With it being the "challenging second album", the band have seen their drummer Kece leaving – and found a replacement in Ville Hopponen. How the change of drummer is going to affect their upcoming album we'll just have to wait and see, but one thing that is certain is that their first single 'Quicksilver', is as catchy as ever.
In light of their new single, we decided to get to know the quartet a bit better. Hit play below, and read all abut the Finnish music scene, the band's inspiration and why they are hearing London calling. Enjoy!
Hey The New Tigers! Who are you and what do you do? 
We are a quartet from Turku, Finland. Our names are Appu, Janne, Valtteri and Ville. We play pop music, mostly quite uptempo, guitar-driven and usually fuzzed-up.
There is a lot of good indie music coming out of Finland these days, describe the music scene?
I guess the bands have been in the garages and basements all the time, but maybe now there's more interest in indie type of music. Many bands are quite DIY, so that they don't necessarily need expensive studios and marketing machinery that much anymore to be heard. Maybe that's sign 'o' the times, as Prince says, that it's easier nowadays to put your music out there to be heard and get ahead.
What is your inspiration?  
The mysterious and random magic that sometimes appears when you manage to create something that sounds nice and somehow unique. Also the circumstances where you're living in is a big inspiration, they type of light, atmosphere, vibe. I could imagine that someone coming from a warm and palm tree covered  place would sound a bit different to someone coming from a more snowy place. And not to forget the fun and optimistic spirit of rock and roll, like what Jonathan Richman does, that's a big inspiration!
A couple of months ago you played the Ja Ja Ja Club Night, and on the 14th of May you are coming back to play The Old Blue Last – are you hearing London Calling? 
There is a David Bowie exhibition going on in London so we had to figure a way to get there! Seriously though; we had a lot of fun when we played in Ja Ja Ja club last autumn, so we're very happy to return in London!
At the moment you are finishing up your second album, what can we expect from it?
We'd say that compared to the first one it's going to be an album with a more defined New Tigers sound, but also a more versatile set of songs. It's interesting that the record will feature two drummers as half of it was recorded with Kece who moved out of the country this spring. Maybe Ville will push the sound in a new direction, we'll see.
What's next? 
Playing some gigs in London and Stockholm, and hopefully somewhere else too. And after the summer, a new album, which we still need to record of course!