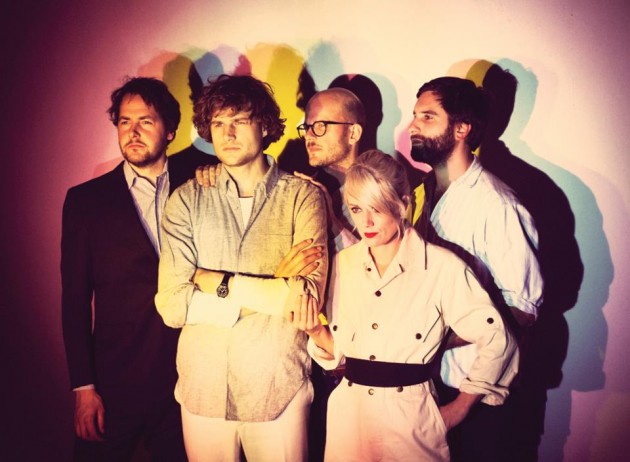 One of the very best Swedish bands in modern history, Shout Out Louds, are blessing London with their presence tonight at The Lexington, and ahead of the now sold out show, the quintet's singer Adam Olenius has provided us with a list of songs and artists that have inspired Shout Out Louds while recording Howl, Howl, Gaff, Gaff, their 2003 debut, as well as the new album Optica, out now worldwide via Merge. Check it out below to see how/if their influences have changed in 10 years.
If you couldn't get a ticket in time, THERE WILL BE ANOTHER SHOW due to popular demand at XOYO on June 13.
Howl, Howl, Gaff, Gaff  (Spotify playlist):
Neutral Milk Hotel – 'Holland 1945'
– Had that damaged pop sound we were looking for. Heard it on Ted's minidisc(!)
Grandaddy – 'Hewlett's Daughter'
– Remembered we listened do this album in the car when we were driving to our rehearsal place.
Built To Spill – 'Car'
– Had a great sound too. Heavy yet sweet.
Mazzy Star – 'Fade Into You'
– A song we listened a lot to in the studio. Our producer tried to copy the tambourine sound.
The Field Mice – 'Emma's House'
– Pure pop. Love the Scottish music scene. Always have.
Optica  (Spotify playlist):
Arthur Russell – 'That's Us / Wild Combination'
– Opened up a door to a different kind of disco.
Daft Punk – 'Da Funk'
– Always..
Sebastian Tellier – 'Kilometer'
– A warmup song in the studio. "Borrowed" a lot of sounds from that song.
China Crises – 'Red Sails'
– The lush sound on this one is brilliant. A new discovery. Love!
Kindness – 'House'
– Love the relaxed house sound on this song one. A lot of character.
Beats International – 'Dub Be Good To Me'
– The playful and naive groove influenced us a lot.
Also, since it's so goddamn good, listen to SOL's very own 'Walking In Your Footsteps' below.