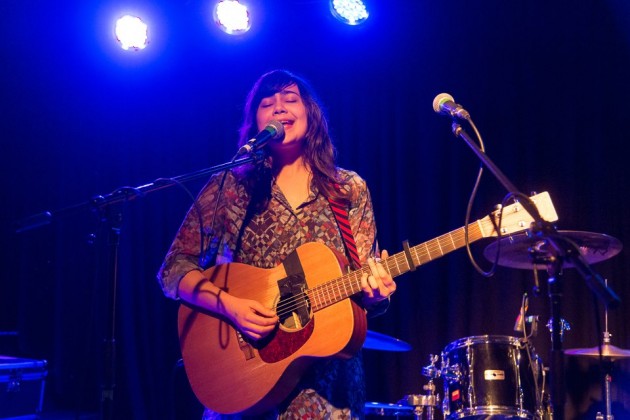 On February 28 we could finally kick off this year's first Ja Ja Ja club night at The Lexington in London. After two cold and dark months, it was finally time to gather all of you guys, three amazing bands and that good mood of the club, and let that winter blues know that it has not brought our spirit down.
For those of you who paid attention to the event's Facebook page, the club was already sold out on Thursday! No surprise then that the second (and the first for that matter) floor of The Lexington was packed. "It's always such a good vibe here", one can hear it being said amongst the audience. We agree.
On the stage this Thursday we found the electronic dream pop of Burning Hearts (Finland), lo-fi rocker Carmen Villain (Norway) and singer-songwriter Lay Low (Iceland). To applause, Lay Low was the first to take the stage. Wouldn't it be nice to have an alter ego? One that for sure is living up to that here is singer-songwriter Lovísa Elísabet Sigrúnardóttir, also known as Lay Low. What this Icelandic beauty is definitely not doing though is laying low. She takes the stage with a mix of confidence and charm that leaves the whole audience deeply in love with her. Standing center stage with her acoustic guitar, she fills up the entire venue with her big voice. Pausing several of her songs to humbly ask the audience if they will please join in on stamping/clapping/singing, the set ends with a magical moment where the whole audience hums "oh ooh" and creates what Lay Low herself describes the feeling of a "religious gathering" before she thanks everyone saying "you're beautiful". As are you Lay Low.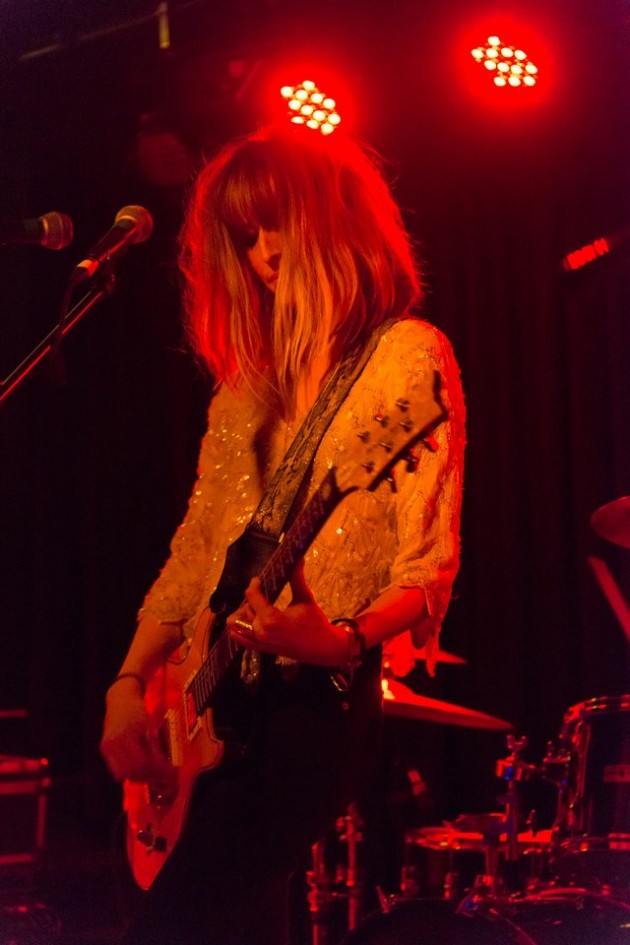 In dramatic red light and with noisy guitars Norwegian Carmen Villain takes the stage as band number two. Carmen Villain is said to describe her songs as "[songs about] escaping something – escaping this weird vacuum, an unsatisfying world". During her set she definitely let her audience escape into a wave of noise and dark vocals. Even though slightly less charismatic than her predecessor, Carmen Villan is never the less as talented and beautiful – standing there in black jeans and a sequin top – like a modern Courtney Love. The music is uncompromising, dark, yet alluring and after finishing their set, Carmen Villain simply walks off stage and let's her band finish up.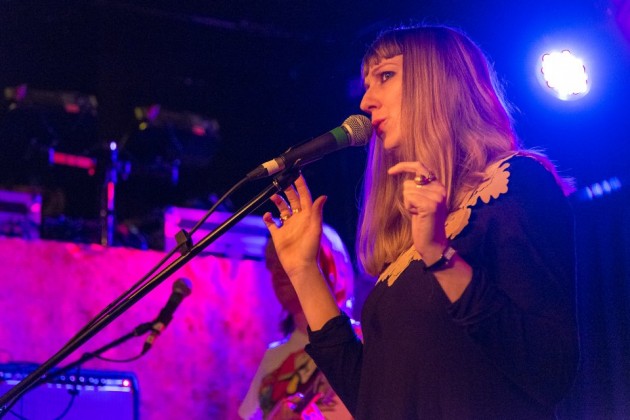 "Give us two minutes, we brought with us these adapters for our equipment, and now nothing works". It's not always easy playing in the UK. Luckily, the third band on stage, Burning Hearts, quickly get everything sorted out and is once more ready to woo the audience with their synth pop. The duo Jessika Rapo and Henry Ojala, which on stage is joined by two other musicians, create a dreamy universe with their music, and as they kick off the set's last song The Lexington is filled with a good vibe. Afterwards they thank the audience with a nervous smile and to deafening applause. What a way to kick off this year's first Ja Ja Ja club night! Thanks to everyone involved, see you again soon.
Photos: Sebastien Dehesdin