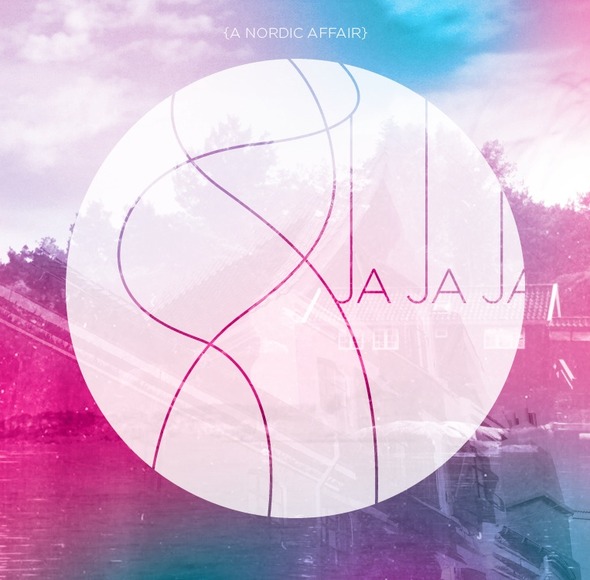 Ja Ja Ja presents
Burning Hearts
Carmen Villain
Lay Low
with Project Fresh Socks DJs
7:30pm 'til late
Thursday February 28, 2013. The Lexington, London N1 9JB
Tickets £5 adv. (£6 on the door)
We celebrated our third birthday at The Lexington last month in schnapps-laden style and are proud to announce details of our next event on February 28, 2013. London's foremost Nordic music night will feature the electronic dream pop of Burning Hearts (Finland), lo-fi rocker Carmen Villain (Norway) and smokey singer-songwriter Lay Low (Iceland). Tickets are £5 in advance (£6 on the door), on sale now from We Got Tickets. Attend the Facebook event here.
Finnish indie stalwarts Jessika Rapo (vocalist for Le Futur Pompiste) and Henry Ojala (ex-drummer for Cats on Fire) teamed up to form the synth pop duo Burning Hearts in 2006. Burning Hearts' debut full-length Aboa Sleeping received a warm welcome on release in 2009, making it to the top albums of several music blogs that year.
After releasing two singles in 2010, 'Night Animal' (featuring a Jori Hulkkonen remix) and a cover of Arthur Russell's 'The Letter', the duo decamped to the Finnish countryside in Ostrobothnia and recorded a four song EP, Into The Wilderness, released in June 2011.
Their sumptuous second full-length album, Extinctions, was released in February this year, garnering critical praise from the likes of Vice who made it their album of the month, exclaiming "The arrangements are impeccable and the melodies and harmonies are impressing. Hell, even the lyrics are good." Extinctions was written in response to many tragic stories that touched the band. Most of the songs are dedicated to persons or creatures that no longer exist. Even if human tragedies inpired the writing and death is present in nearly all the songs, the sounds remain vivid and full of hope. Most recently Burning Hearts have been nominated for the Finnish Emma Awards in two categories, namely Best Album and Best Album Cover for Extinctions.
"Most of my songs are about escaping something – escaping this weird vacuum, an unsatisfying world" – Carmen Villain
Norwegian Carmen Villain is the latest signing on Smalltown Supersound (Lindstrøm, Todd Terje, Neneh Cherry, Annie). She has spent the last year working on her debut album, resulting in a tempestuous, psychedelic and dreamlike set of songs with a defiantly DIY underground free-rock
sound. Mostly recorded in a former nuclear bunker in Oslo, half of the album has been produced by Carmen herself, the other half by Emil Nikolaisen (Serena Maneesh), with one track a collab/co-production with fellow Norwegian cosmic hero Prins Thomas (who also sequenced the album). Carmen – who freely admits to an obsession with American avant weirdos Sun City Girls – draws on a lineage of sprawling, taboo-busting lo-fi rock: Sonic Youth, Royal Trux, Broadcast, Bikini Kill and The Stooges. But equally she admires the cut 'n' paste productions of J Dilla, Wu-Tang Clan and English avant garde post-punkers This Heat. The album is being released via Smalltown Supersound in March 2013, with two 12" singles due earlier in the year, including remixes by Prins Thomas and Optimo.
Watch the as-yet unreleased 'Made A Shell', taken from a blistering performance filmed at Parkteateret, below.
Born in London to a Sri Lankan father and Icelandic mother, Lay Low's musical abilities stretch as far as her geographical heritage. Starting out as a pianist and bass guitar player; she has jammed on keyboards and synthesizers with Benny Crespo's Band, found her voice in blues folk and a little honky tonk bop collaborating with producers such as Toe Rag's Liam Watson. Although her new material is taking on a new trip hop twist, Lay Low's distinct musical journey can still be felt at its roots, producing a honed yet experimental sound that is all her own.
Vocally Lay Low combines a rich chocolate sound with a sweet cinnamon rasp and a sip of whisky to take the edge off. Her live shows have seen her reach round and hug a room of 200 people using only her voice in acapella. Seeing Lay Low perform is unique and musically playful; she spins new yarns out of her songs, exudes warmth and radiates sincerity that amounts to a profoundly personal experience.
Lay Low came about in 2006, after Lovísa was contacted by a local label that picked up on a demo that she had uploaded onto MySpace. Not one to waste an opportunity, Lay Low's debut album Please Don't Hate Me was released that same year. An intoxicating take on classic Americana sounds, the record topped the Icelandic charts and became the bestselling original album in the country, winning no less than three Icelandic Music Awards. To prepare for her next album Lovísa drew inspiration from Icelandic nature, travelling to remote country villages. With such a vast range of influences, this isolation allowed Lay Low to come into her own. She found something special with producer Liam Watson (White Stripes, Pete Molinari & Holly Golightly) on her second album, Farewell Good Night's Sleep. The album was soon picked up by the music team at iTunes US who tipped Lay Low as one of the best discoveries of 2008.
On Brostinn Strengur (Broken String), her third LP album, Lay Low explored her talent for collaboration, harnessing the energy of Icelandic female poetry over the last 150 years. Using the poems as her lyrics, she sings in Icelandic and creates an enchanting sound of soothing folk with experimental indie twists. Nominated for five Icelandic Music Awards, the album was commended as her most experimental record yet, showing a confident use of Lay Low's broad range of musical styles.