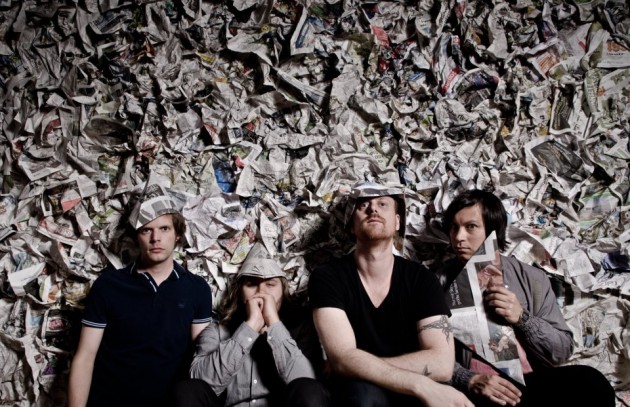 Norway's synth pop supremes Casiokids are once more back. After touring around Japan and Europe for some time, they felt it was time to give their Norwegian fans a real treat.
Earlier this weak the band launched a limited edition (250 copies to be presice), Norway sold only, 12″ with two new singles, just in time for their tour this autumn. Those lucky Norwegians! And lucky us! With the wonders of Internet and SoundCloud you can listen and enjoy 'Skip I Natten' and 'Offerdans' wherever you are. To top if all off, we sent over some questions for the boys to answer about the 12″ and how, as vocalist Ketil Kinden Endersen puts it, dance is universal.
What can you tell us about the process of creating the new single? 
'Skip i natten' and 'Offerdans' are outtakes of the first set of songs we've made in our new studio at the culture house Bergen Kjøtt. For some reason we often find pairs of songs that fit together, that support each other, just as we did with the string of double A-sides leading up to our second full length album Topp stemning på lokal bar, which basically was a singles collection. With Aabenbaringen over aaskammen we created a mood for all the songs to live in, as an album. Now we're back again to doing coupled singles, which is a very fun and immediate way of working.
You've done some gigs around the UK earlier this year, together with Japan and the rest of Europe. How do you feel the english-speaking audience are receiving your norwegian lyrics?  
When we first started playing abroad, in France and UK from 2005, we where continuously amazed that the reactions where so overwhelming when no one could understand the lyrics. After a while we discovered how much of the energy we could send out and still catch the audience's attention without them understanding what was said, both melodically and of course rhythmically. Dance is definitely universal.
'Skip i Natten' / 'Offerdans' is released on Splendour. 150 copies are made for retail and the remaining 100 will be sold on the band's Norwegian tour.