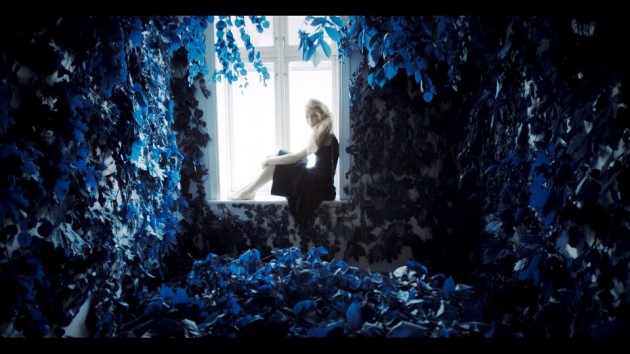 About a month ago we posted Kinee's first ever music video 'No Regret', calling her alternative pop captivation and powerful. Now she has released her first EP Swords and her second video, for the track 'Walk Me Through ft. Ava – Knut Sævik extended edit', came out earlier this week.
"It was terrifying, fun, kinky and overwhelming. I loved it", Kine Sandbæk Jensen says of how it felt to be in front of the camera "acting out" her songs for her two resent music videos, and adds "I also love the people who made the videos with me. I could never have done it without them." In other words, the Oslo-based redhead has a lot going on at the moment.
Take a look at our Q&A below and learn what inspires her and how it felt to release her first EP!
Hi Kinee, who are you and what do you do?
Hi! I'm from Fredrikstad, live in Oslo, make electro-acoustic music and sing it to those who listen. And I'm a proud strawberry-blonde.
You said that you have used this last year to explore where you want to go musically, so, where do you want to go? 
I want to keep true to my roots as a singer/songwriter! I felt 'Self-Respect', one of my first public songs, and 'Voodoo', my first single, led me in the wrong direction. It was more pop-oriented than heart-oriented if you know what I mean. The best thing about music is that it can move you – both your feet and your feelings. I wanna do both. I'm also more on the producing side of things now and that's very interesting.
Your first EP was released in September, how did that feel? 
When it dropped I didn't feel a thing. Weird huh? Maybe because of the information flow nowadays. And I haven't done any physical copies yet. It feels better now though. I've been working on those songs for so long, so letting them go was about time! Now they're out living their own lives and I can go on with mine. It's cool. We're cool. And I love playing them live.
Where do you find inspiration? 
I'm most inspired when I'm miserable I guess. Hah! Well, not all the time but heartbreak usually leads to good melodies and lyrics. It's terrible but good in some ways. It's okay having masochistic tendencies when it comes to love. Especially if you're a songwriter. I'm also inspired by other artists – musicians, writers, film-makers, painters – you name it. I often find phrases and melodies just pop when I'm doing ordinary stuff as well… like shopping for milk and eggs. My recorder is always close at hand.
One review said that you have one leg in a nightclub and the other in a jazz club. Where do you feel most comfortable?
Wow. That's a tough one. Can I do one half of the show upstairs and the rest downstairs? I love doing acoustic things in my shows but I also love to get down and dirrrty in tha club!
You have been around for some time now, what made you decide to really go full in with the music?
When I realized journalism was not for me. Hahah! No, actually I've been doing music for as long as I can remember but times are tough. There's a lot of great music out there and just recently I found the confidence to go all the way. It took some time but now I'm where I want to be. It feels very good and I'm tremendously broke.
What's next? Any UK shows coming up?
Next! New songs to be released… New projects to be announced… UK: BRING IT ON!!!!!
Check out the video which was shot by Morten Vee, directed by Kristine Meling Enoksen and edited by Andreas Nesse here: