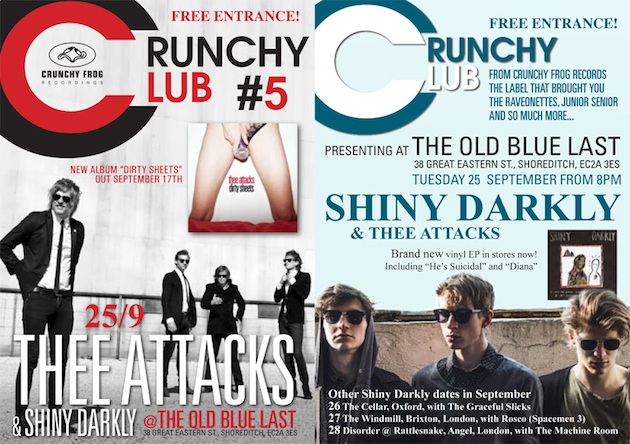 They've had a summer break and now they're back.
Denmark's Crunchy Frog Records present the fifth Cruncy Club at The Old Blue Last in London on September 25, starring the following fine, upstanding artists, and free entry…
Thee Attacks
Thee Attacks are four young men with lots of experience when it comes to touring the world, and now they're back in London with a new record. Dirty Sheets – their second album – will be released on September 17. With Jimmy Attacks's brutally honest vocal, catchy guitar riffs from Terry Attack and Johnny and Ritchie Attack's hold on the rhythm, Thee Attacks stand stronger, groovier and heavier than ever.
"So good. They'll easily move beyond the garage and could cross over to become a successor to The Hives." – Mojo
"Our new favourite Danish bands. So fantastic. A band like that doesn't exist in the USA." – Rolling Stone
Shiny Darkly
Crunchy Frog's newest signing, they've only been a band for a little over a year but with their eponymously-titled EP they're taking listeners to a dark, electric universe inspired by the post punk and shoegaze of the '80s and '90s.
Facebook invite here.
8.00 doors