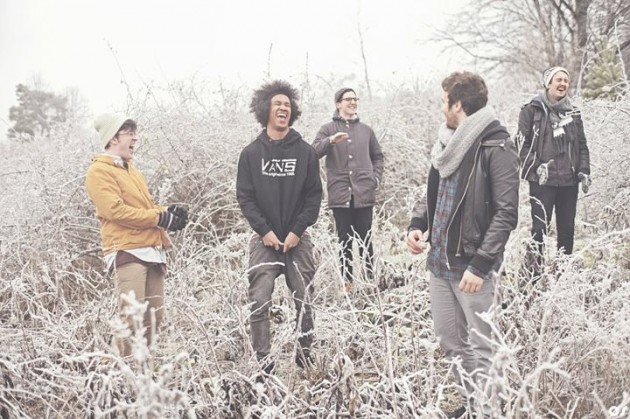 The first time I watched Eye Emma Jedi live was at their first ever concert at Malakoff Rockfestival back in 2011. When they kicked off their biggest hit 'Lights' the crowd went wild: the jumping up and down, singing along, grinning like kids kind of wild.  I remember thinking that this band, this band was going to make it. They had this amazing stage present, catchy tunes and a type of energy in both their songs and their performance that had not been seen from a Norwegian act in quite some time.
With roots in the UK, the band was formed at LIPA (Liverpool Institute of Performing Arts) and consisting of Britons Joe Willis and Dan Croll, in addition to Norwegians Alexander Pavelich, Andrew Murray and Andreas Reiten Westhagen, everything is now ready for the band's UK launch.
On August 20, they are releasing their debut UK single 'Sin' via Killing Moon Ltd. The track is, like the rest of Eye Emma Jedi's discography, filled with energetic indie guitars, it's upbeat and have harmonious vocals that you can easily sing along to. Do we smell a hit? The band's history with getting their singles listed at the Norwegian radio channel P3 says that a hit is what we have on our hands. We had a chat with the band about their forthcoming UK launch. London, watch out!
Hi Eye Emma Jedi, what's up?
Yo! We're currently on our summer tour at the moment. We just played a mental student festival for a thousand raving mad kids in Trondheim, Norway. Going to the arctic circle this weekend to play a festival and are pretty stoked for that!
How would you describe your music? 
Our music is a melting pot of all our musical influences, which vary from hard-hitting rock & post-hardcore, dancy indiepop and loads of catchy melodies. We'd like to think there's something in there for most people, with some elements of joyful surprise. Or something like that! It's a bit of everything, really, and up to the listener to decide.
With your first UK single you have gone back to where it all started. How does it feel to launch yourself back "home"?
With 'Sin' as our debut single in the UK we're really excited to start fresh and just record and gig as much as possible. We've spent a lot of time touring in Norway and are stoked to be back in London and to go nuts. We want to start working on our album this autumn, which is a huge step for us. Expect more riffs with big, jangly tones, as well as even more melodies and hooks to hang your ears on. We've played a few shows in the UK already that have gone really well, so we're just pumped to keep on playing and reaching out to as many people as possible.
What would you say is the biggest difference between the Norwegian and the British music business?
It's hard to say because the music industry is losing its geographical limits and just becoming more global. With the internet and its digital social media it doesn't really matter where you're from – as long as your music is awesome and you have a great team behind your back you'll always come out standing and can reach a long way. For us it's been all about mixing the best of both worlds. We wouldn't say we have a Norwegian sound at all, we just play music we love that's inspired by music from all around the world. It's very exciting.
Eye Emma Jedi is having their UK launch party at The Barfly in London on August 22. Check it out here.