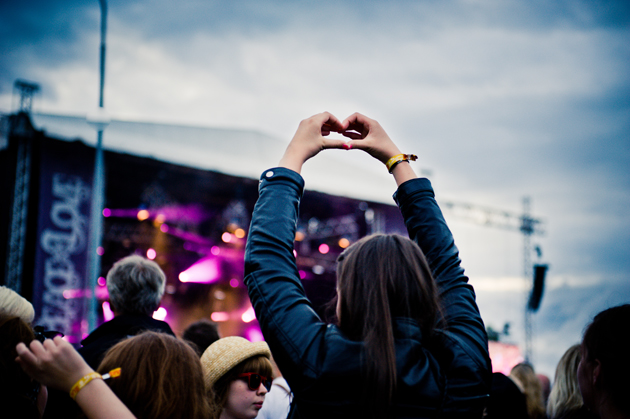 Photo: Malin Sydne
The Peace & Love festival in Borlänge, in the province of Dalarna, is currently the biggest festival in Sweden – and it has been for a few years now. Peace & Love combines the regular music festival with seminars, lectures and discussions regarding diversity, understanding, solidarity etc. For the past few years the music program has been firmly dominated by Swedish acts as most of the lesser known acts on the festival are Swedish, unlike for example Way Out West. Among the bigger acts it's usually a mix of Swedish and international artists – past headliners include Bob Dylan and Jay-Z.
This year's headliners are Rihanna, Regina Spektor and Roxette, with names like My Morning Jacket, Kurt Vile and The Shins standing out among the rest. For our Nordic must-sees at the festival we've decided to ignore the bigger acts as they're, well, more well-know and because these ones are by far more interesting and exciting. We've got both regular Ja Ja Ja favourites like Niki & The Dove and Icona Pop as well as several other acts – check them out below, in alphabetical order.
Mattias Alkberg
Former Bear Quartet frontman and vocalist Mattias Alkberg embarked on a solo career in 2009 and last year he released his second solo album Anarkist. Anarkist showcases Alkberg's strength as a lyricist (in Swedish) and he's an excellent live act. Listen to Anarkist on Spotify.
Caviare Days
The sister-duo Caviare Days released their self-titled debut album in April this year and they're bringing their '60s folk-inspired pop to Peace & Love. Listen to Caviare Days on Spotify.
Deportees
Indie veterans Deportees are responsible for one of last year's best and most critically acclaimed Swedish albums, Islands & Shores, but the praise doesn't end with their well crafted recordings – they are also widely regarded as one of the best live acts in Sweden. Come see for yourself why that is. Listen to Islands & Shores on Spotify.
Icona Pop
You all know everything about Icona Pop, right? If not; last year they released their excellent debut EP Nights Like This and earlier this year we got the new club-ready dance-punk single "I Love It". Plus they're one of the best live acts you'll see this year. Listen to Nights Like This on Spotify.
Idiot Wind
Idiot Wind, aka Amanda Bergman, has formerly recorded under the names Hajen and Jaw Lesson and if you've seen The Tallest Man On Earth live you've probably wondered who the extremely talented vocalist he duets with at times is. Here's you answer. She released her self-titled debut EP in 2010 and got a full-length scheduled for later this year.
Niki & The Dove
Niki & The Dove hardly need an introduction as we've been raving about them all year. Their wonderful debut LP Instinct was released in May and they're a fantastic live act. A must-see at any festival. Listen to Instinct on Spotify.
Daniel Norgren
American garage blues rock from Sweden? Yes, why that is exactly what Daniel Norgren does, and he does it extremely well. Main reference point might be early Black Keys, but almost better, and there's traces of Tom Waits there as well. Listen to his latest full-length Horrifying Deatheating Bloodspider on Spotify.
Samling
Do you like Dungen? Of course you do. Well, then you'll probably like Samling as well – they released their debut record last year and belong in the same area of the music world as Dungen, albeit with a poppier approach to their psychedelic rock. Listen to their debut full-length När Mullret Dövar Våra Öron Blir Vi Rädda on Spotify.
The Sound of Arrows
Their debut full-length was finally released last year and considering the success that for example M83 has had in recent years The Sound of Arrows should be made for indie stardom. Joyous and uplifting, while emotionally affecting. Listen to their debut LP Voyage on Spotify.
Anna Ternheim
Anna Ternheim's latest studio album The Night Visitor was released last year and with it came something of a new direction for the singer-songwriter. The record was recorded in Nashville with Will Oldham among others and features a starker and more desolate sound, a more American indie folk-inspired sound. Whatever you want to label it as it's a fantastic record and Ternheim is sure to impress. Listen to The Night Visitor on Spotify.
Peace & Love takes place between June 26 and June 30. Get your ticket here.