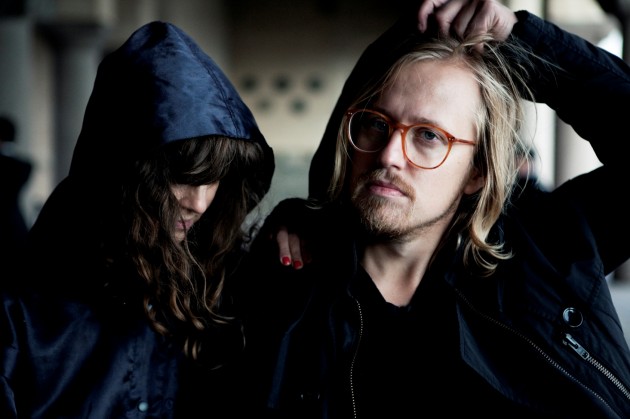 Kicki Halmos and Pelle Lundqvist, best friends since early teenage years, have played together in various line-ups with many other Swedish musicians. Something happened on the way and since 2009 they're known as Masquer. Their debut album Cover My Face As The Animals Cry was produced by Swedish artist and composer Per Egland and released in September last year through Rough Trade distribution. We had a little chat with the duo in conjunction with their visit to Norway and by:Larm, and this is what we found out:
Interview by: Leena Ollikainen
What's the story behind Masquer?
Pelle: Masquer started as a spin off from our previous band, it started as a side project where me and Kicki finished all the songs that were rejected by the rest of the band because the songs sounded too cute or too much pop. It was great fun when we met (in secret at first) to finish the songs in our studio, we got to experiment a lot and try stuff far beyond the other band's more classic rock frame. We bought our first sound card and started recording ourselves, it was a great learning experience. After a while this side project took over and we quit the rock band. Now it's been just me and Kicki for three years.
What's the most important thing about your band?
Pelle: The feeling that everything is allowed, that we don't ignore ideas for a new song song just because they don't fit our sound. We try any crazy idea and let the song take us where it wants.
What was the highlight of 2011 for you?
Kicki: Releasing our debut album.
Pelle: Definitely the release, it was an amazing feeling to finally release something real.
How do you bring the musical influences of the '80s alive successfully today?
Kicki: I think our trick is to use a lot of chorus effects on everything. And electronic drums.
Pelle: But we never actively apply the '80s to our sound, we just happen to love chorus.
You seem to be keen on collaborating with other artist. Who would be the first one on your list to work with?
Kicki: It depends on what kind of music I feel like doing. It would be cool to do a song together with Cylob, something similar to his Synclair remix. Also I would love to do something with Twin Shadow.
What can we expect from your live shows at by:Larm?
Pelle: An intense and intimate experience, we have a pretty big sound even though we're only two on stage. And hopefully a lot of feeling.
Are you excited about any other festivals this year?
Kicki: I'm excited to visit Way out West. It's my favorite Swedish festival. They have already released a lot of bands and artists that I want to see. Bon Iver, St Vincent and Thurston Moore for instance.
Pelle: I'm definitely going to WOW this year. I also started to long for going back to Roskilde, I haven't been there for more than ten years. I would love to play there.
What is Masquer doing five years from now?
Kicki: Hopefully we'll be working on our fourth album and also do a lot of fun collaborations with other artists.
Pelle: And we have finally released something in the US.
Do you remember the first record (or cassette) you bought?
Kicki: I think it must have been Madonna's Like A Virgin. I didn't buy it obviously but I remember it as the first record I actually played on my own.
Pelle: My first cassette was the album The Final Countdown by Europe.
Your dearest music instruments?
Pelle: I see instruments as tools really, I don't get that attached to them. But I still have my first guitar that I got from my father on my fifteenth birthday, that's perhaps the most important gift I ever got.
Words: Leena Ollikainen
Published with kind permission of the author and by:Larm News, a full version of by:larm News can be read here.