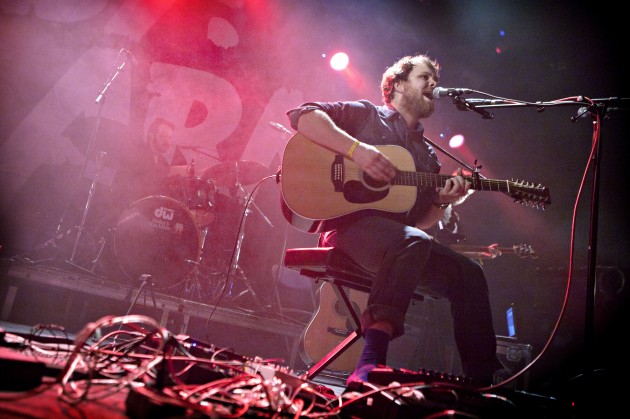 Who: Loney Dear (Sweden)
Where: Rockefeller, by:Larm, Oslo, Norway
When: 11:30pm, February 16
Words: Wyndham Wallace
Photo: Patrick da Silva Sæther
It was late last year that I enjoyed the pleasure of interviewing Emil Svanängen about his brand new album, Hall Music. He was in LA, emailing from a hotel where he looked out across the city, a position most people would relish. Emil, however, was down, so down that I found myself moved to call him upon his return to Sweden under the pretence of continuing the interview, though in reality I wanted to check if he was OK.
Nowadays he's happier, he tells me when I run into him outside the Nordic Music Prize ceremony, and so he should be. The album may not have made him a star, but for those who have discovered its charms, he's something far more special: a comfort and an almost unparalleled source of consolation. Because the glory of Loney Dear is that everything he writes is all so believable.
He's greeted tonight by fanatical cheers from an army of fans who are drawn to his childlike, honest amalgamation of sweet melancholy and guilty pleasure. Within minutes he's whistling and humming like he's just been let loose in a sweet store after hours, but, typically, the mood doesn't last. Such happiness rarely does in his world, it seems: 'Loney Blues' sees him wail, his voice cracking at the top of its range like he could break down at any point, and 'My Heart' is similarly vulnerable, Svanängen now seated behind his guitar and recalling times when he woke up crying in his sleep.
He's backed by a three piece band, Malin Ståhlberg switching between keyboard and accordion, while Svanängen – his shoes discarded beside a bank of effects pedals, his hair scruffy and his beard unkempt – occasionally employs a loop pedal for his vocals, pouring his heart out as though it's therapy, and quite possibly it is. Admittedly tonight Loney Dear initially seem mildly restrained, even at times a little shaky, but such shyness is soon shaken off as Svanängen stands up, throwing his head back to let loose yet another of his idiosyncratic howls of pain.
'I Dreamed About You' again is another example of his peculiar charm, building upon the simplest of foundations to a heartrending crescendo that brings the show to an all too early close. Svanängen leaves the stage humbly, most likely to worry about whether or not he's left a mark upon his audience. But he has. The truth is, he always does.
Sweden should be proud. We should be grateful. Emil Svanängen should be more than happy. But, somehow, one hopes he'll keep unearthing unhappiness within and sharing his discoveries. They keep us company when most we need it.
Published with kind permission of the author and by:Larm News, a full version of by:larm News can be read here.