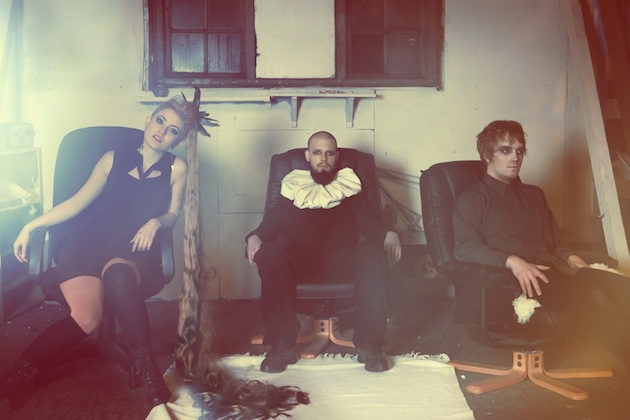 Goddammit, this is good.
We were up in Trondheim a few weeks ago, got talking to the Dayladore Collective, and they hipped us to one of their bands, Doffs Poi. A Danish singer, Swedish drummer, Swedish keyboard player, Norwegian label. They're like the band of the Nordic UN or something.
We've been banging on about them to our friends ever since, and not having the easiest job of describing them. Math-jazz we said at one point. It's definitely jazz-y (not jazzy) and definitely tricksy (not tricky), in terms of the songs' structures and time signatures. Dayladore say; "An energetic, genre-breaking trio with a sound which can be described as a melodic and explosive rhythmical firework. Rough tones, distinctive lyrics and melodies together with surprising drum patterns create an intense universe which is completely their own. Doffs Poi have been compared to bands like Deerhof, Wildbirds & Peacedrums, Animal Alpha and Kolbert."
They're not wrong about any of that. The track below – 'Anyhow' – doesn't really give the full picture, so you'd do well to watch the video below too, and be sure to hang around for at least five minutes and watch the keyboard player bust out some fucked-up, Jimmy-Smith-wired-to-the-mains-shit.
Their debut album is released March 30th on Dayladore Collective, followed by a split-tour with Chili Vanilla in April.