Man, we wish we'd been hipped to this a bit earlier.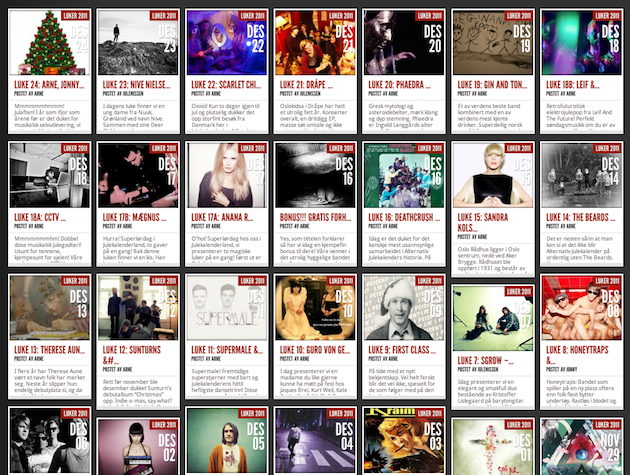 Alternativ Julekalender is just what it says it is; an alternative Christmas calendar, featuring a load of music from the bands and friends of the Norwegian label Riot Factory (like Honningbarna and Deathcrush), who base themselves in Trondheim and Oslo. When they are not at home in Norway, they apparently live in a castle in the Swiss Alps, though we don't really believe them. They also sometimes throw parties and bake cakes. Which is probably true.
So anyway, on their roster you will find Pelbo, Dråpe, Angelica's Elegy, The Hex, Scarlet Chives, Tenderleaves, Rest Of My Life, Bendik, The Avalanche, HighasaKite and  Amish 82. There's a bunch of music here, and while we do not wish to single any one artist out on this calendar, we are going to single out Deathcrush, whose wonderful cover of 'Merry Christmas Baby' fair warms our granite hearts.