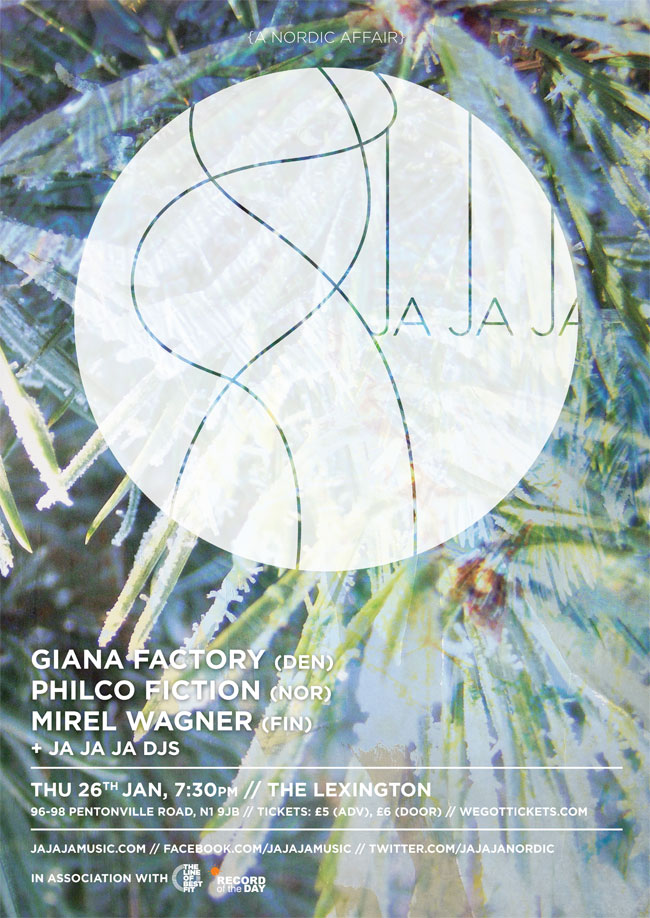 Ja Ja Ja
GIANA FACTORY (DK)
PHILCO FICTION (NO)
MIREL WAGNER (FI)
FEATURING DJ SETS FROM
JA JA JA DJS + PROJECT FRESH SOCKS
7:30pm 'til late
January 26, 2011. The Lexington, London N1 9JB
As the last Ja Ja Ja was a massive two year anniversary celebration with – as per always – incredible music, and due to us having a month off for Christmas, January's Ja Ja Ja had to be a pretty special come-back affair.
So as well as bringing you three acts that are brilliant and renowned in their Nordic homelands, we've brought you three that are blowing people away internationally and in a world of their own. Mirel Wagner makes stripped down blues of such fragility and beauty, words simply do not do her justice. Philco Fiction have had both Record of the Day and ourselves at TLOBF foaming at the mouth with their bold use of instrumentation and songwriting skills, whilst Giana Factory create their own blend of noir-pop that has won them international adoration from their first EP release onwards.
Who says January is for staying in?
Tickets here.