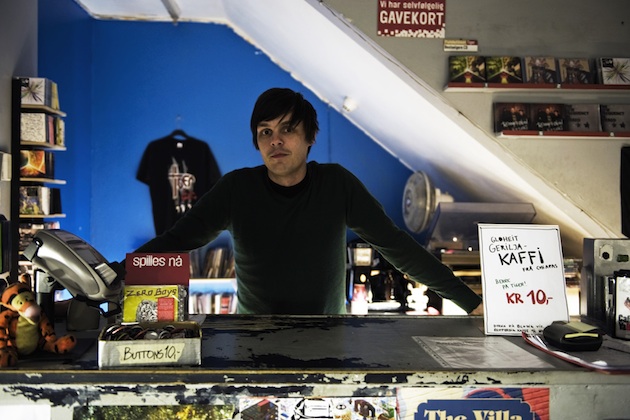 It's difficult to overstate the influence and importance of the Fysisk Format label – which lives inside Oslo's Tiger Records shop and exists alongside their Diger distribution platform – or the respect it engenders. Home to much of Norway's best loud music (Blood Command, Årabrot, Haust, Okkultokrati…), think of it like Norway's Rough Trade (if you live in the UK. If you don't, think of it like another hugely respected and influential record shop). We spoke to FF's Kristian Kallevik about its long history, and Turkish greengrocers.
JJJ: What's the history of Tiger / Diger / Fysisk Format (for those who don't know, you could explain which is the label, which is the shop and how they interact)?
KK: Tiger started out way back in 1996, before the internet broke (at least in Norway) and was from the get-go a specialist in local underground stuff and imports. I've been working here since 2003. We have always been involved with local bands, so starting a record label in 2008 felt like a natural extension of our work. Our first ten releases were basically the next releases by the bands that we've pushed demos and self-released stuff from. The record store is still the main spot to find new bands for us, and also the meeting point for everyone involved in the label. Diger is a distribution operation for all the things that we think deserve more attention, but for various reasons don't fit into Fysisk Format.
JJJ: In these difficult economic times, how have you had to change your business, and what does the future hold for shops like Tiger?
KK: It feels like there have always been difficult times here at Tiger. I have never been part of any "golden era" and that's maybe our greatest forte. We are perfectly comfortable with today's situation. If the economy wasn't difficult I would be very suspicious. To me, the bad economy is the proof that we're doing something of importance, that we are changing the world of music. As for the future, I don't think we will see any new shops like ours starting up, but it seems like part of the record store culture is being channeled as cafe interior and "cultural atmosphere". God help us.
JJJ: Which release are you most proud of?
KK: It's very hard to single out one release; I am extremely proud of each one of them, and as time goes by I just get more proud. But to single out one I'd say Haust's 'Ride the Relapse' just because that's the one which started it
JJJ: The hardcore scene in Oslo seems to be vibrant, with the likes of Black Hole Crew being pretty active. Can you talk a little about your connection to it, and how you see its relevance right now?
KK: I'd say the hardcore scene is a lot more divided than it may seem. You've got the youthcrew fashionistas on one side, the eco-political tree-lodge crusties on another and then Haust, Okkultokrati and Årabrot who don't fit into any of these. Very little unity these days. Maybe that's what makes it vibrant?
JJJ: If you could have released one album from any artist in the past ten years, which would it have been?
KK: The new Prurient album is awesome, also anything by the Marked Men and everything on Sacred Bones and Not Not Fun Records.
JJJ: Any advice for new visitors to Oslo? Give us three of your favourite bars/venues/stores/tram-routes…
KK: These are the only three places I go:
1. The Turkish greengrocer in Torgatta for food
2. Deichmanske Library for books
3. Revolver for drinks and good shows (even though Okkultokrati is banned for life…)