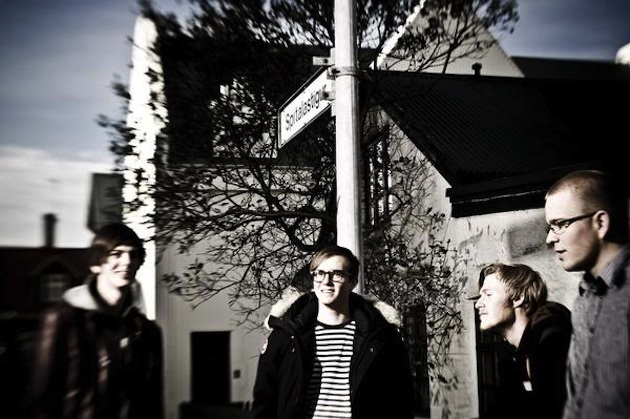 Icelandic post-rock band For a Minor Reflection have treated us to an EP, entitled just that – EP. The title may be simplistic but the content is as masterful and as melodious as an alternative instrumental band can get. The EP, which was released in Iceland last month, peaks at just over twenty minutes in length, encompassed within four pure, minimalistic and ethereal creations.
Following the success of their first album in 2007 Reistu þig við, sólin er komin á loft… (Rise, the sun is up…) the young band has certainly had a whirlwind of experiences. They have played the legendary Iceland Airwaves Music Festival for the past five years, have toured Europe with fellow Icelandic's Sigur Rós, compared to Texan legends 'Explosions in the Sky', produced their second album Höldum í átt að óreiðu (Heading in the Direction of Chaos) in 2010, and 2011 has only seen their success escalate. This year took the band to festivals further afield to renowned places such as Sziget in Hungary and SXSW in Texas, as well as embarking on tours within the USA and Canada.
Despite their growing and now wide-spread success globally, the band returned to their hometown to release the EP and to put on a special release show for the locals, also featuring performances from We Made God and Lockerbie.
If you happen to be a fortunate Reykjavik resident, head down to Faktorý tomorrow night (Wednesday 30th: 8pm) to be treated to a performance of the entire EP, along with some old treasures from the band's five years of success. And you can even pick up the EP for a special price!
Choosing which song to include here was easier said than done; like their previous work, FaMR continue to be creative visionaries, constantly progressing and experimenting with their own acoustic capabilities, and not just album by album, but song by song, and this piece of work is no exception.
Have a listen to 'Revive' below, the most melodic choice of all on the EP. However, I highly recommend giving 'Impulse' a listen afterwards. Better than that, purchase the full EP now on iTunes or here on gogoyoko.